Critical Care
Our critical care experience is a strength of the program.  We rotate through three critical care experiences- at Medstar Georgetown Hospital, at Medstar Washington Hospital Center, and at Virginia Hospital Center.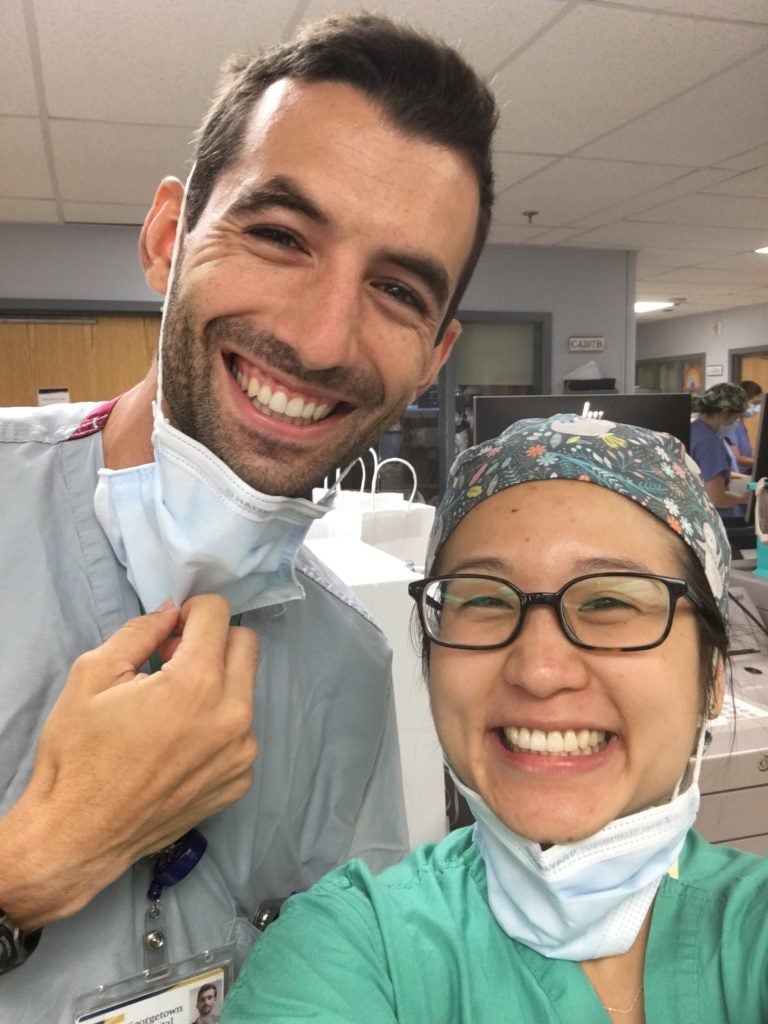 The rotation at Georgetown is a highlight of the residency. The patient population is varied, complex and critically ill, as would be expected at a tertiary academic medical center. The residents are split amongst 4 teams, each consisting of a senior resident, one or two interns and an acting intern from the 4th year medical school class. Each team takes turns admitting on a 4 day cycle with an additional senior night resident providing support, making it a 24hr call plus system.
The GUH Medical Intensive Care Unit experience includes management of the full range of life-threatening medical illness. There is an active ventilator service, with daily rounds by Critical Care attendings at the University and at all affiliate programs. Patient volume is consistent, and the diversity of illness seen is assured by an active air transport referral service from throughout the surrounding region.
MICU and CCU rotations at affiliated hospitals round out the overall critical care experience. Interns and residents rotate through the CCU, heart failure and Cardiology services at Washington Hospital Center, offering the busiest cardiac catheterization lab in the nation.
Georgetown MICU
The Georgetown Medical ICU is one of the cornerstone rotations of the Internal Medicine Residency Program. During intern year you will gain exposure to managing critically ill patients at a tertiary care center in the Nation's capital. Residents are placed on two teams that are sub-divided into 1 intern/1 resident teams so that interns gain autonomy but have a close network of support. Additionally, Pulmonary and Critical Care Fellows work extremely closely with our residents to act as additional support in addition to the attendings. We are also fortunate to have both Emergency Medicine residents and Interventional Radiology residents rotate on our MICU service, providing a unique learning environment that fosters inter-program relationships.
This schedule is a 24hr Plus system where senior residents take 28hr call every 4 days with a 5th senior resident providing additional coverage at night. Interns never complete 28 hour call on ICU (or any rotation) but rather have long call days and a night coverage system.
Virginia Hospital Center Medical ICU
Virginia Hospital Center is a community hospital that provides excellent care in Northern Virginia. The residents are placed on one intern and one resident teams that work closely with Critical Care faculty. As there are no fellows, residents are able to form close relationships with faculty that facilitate education in the critical care setting. The community hospital patient population is very different from Georgetown's, which adds another dimension to the care experience. Additionally, it is a mixed (but closed) ICU, meaning that you will also gain experience caring for neurosurgical, post-surgical, and cardiac patients.
Cardiac Care Unit – CCU at Washington Hospital Center
Residents will rotate on the Cardiac Critical Care rotation at Washington Hospital Center. Residents are exposed to advanced cardiac management including cardiogenic shock with the use of impellas, intra-aortic balloon pumps, and LV assist devices (LVADs) as well as work closely with some of the preeminent cardiologists in the region.