Didactic Curriculum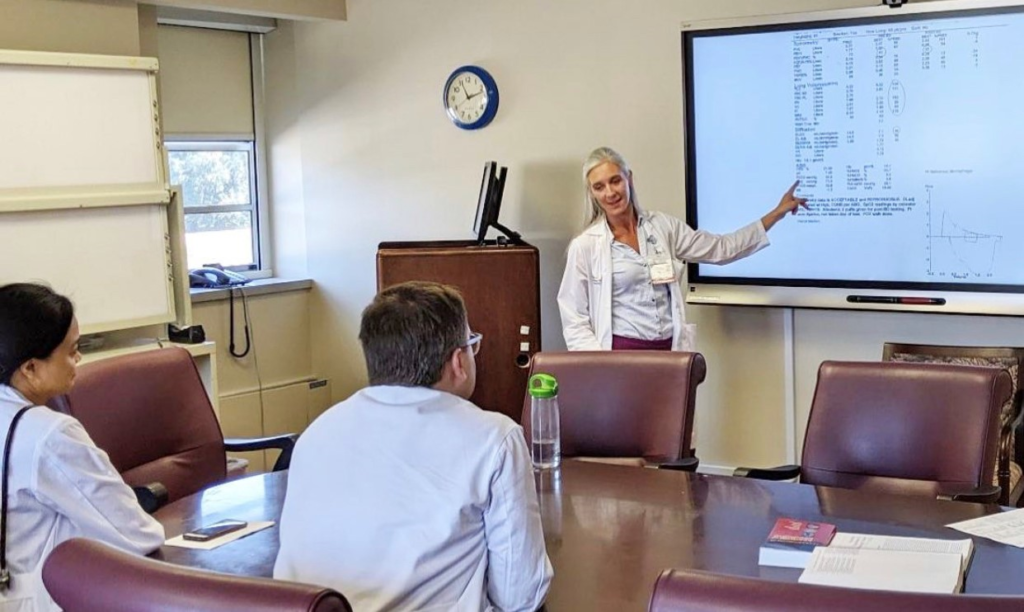 One of the highlights of our program is the robust curriculum participated in by fellows and faculty. Multiple weekly lectures, seminars, journal clubs and case conferences are held throughout our clinical rotations and together within our division. Below is a short synopsis of each:
Pulmonary Pathology Conference: In this monthly conference, a pulmonary pathologist reviews biopsy, surgical and post-mortem specimens and pulmonary faculty lead the discussion on clinicoradiological pathological correlations.
Radiology Conference: The principles of chest radiology and the extensive teaching files of the Department of Radiology are the basis for this bi-monthly conference for pulmonary fellows.
Pulmonary Physiology/PFT/Exercise Conference: The goal of this conference is to review the physiology and pathophysiology of lung disease as well as interpretations of pulmonary function testing and exercise testing. 
Journal Club: A luncheon conference where all major chest journals and articles of pulmonary interest in investigative and general medical-surgical journals are reviewed.
Research Conference: A monthly conference where new protocols are reviewed and critiqued and where investigators have the opportunity to present work in progress and prepare for presentations at national meetings.
Critical Care Lecture Series: Topics in critical care medicine are presented by faculty, fellows and outside speakers to cover both pulmonary and non-pulmonary critical care.
Pulmonary Lecture Series: Topics in pulmonary medicine are presented by faculty, fellows and outside speakers
Multi-disciplinary Thoracic Oncology Conference: This is both a working clinical conference and a didactic one. Every Wednesday, new thoracic oncology cases are presented and discussed by a team of pulmonologists, oncologists, radiation oncologists and thoracic surgeons. Didactic lectures are presented by various team members and invited speakers.
Pulmonary-Infectious Diseases conference: This is also a working clinical conference and a didactic one. Interesting and/or challenging thoracic infectious diseases are presented and discussed by Pulmonary and ID faculty.
Pulmonary- Rheumatology conference: A similar working/didactic conference, this conference focuses on rheumatologic diseases with both pulmonary and critical care implications. Didactic lectures are also incorporated.
Case Conference: Diagnostic and therapeutic dilemmas of interesting pulmonary and critical care cases are reviewed including CXRs, CTs and ultrasounds. 
Sleep Conference: This is a monthly multi-disciplinary conference where the basics of sleep medicine are covered by faculty in sleep, neurology, ENT and dentistry.
Pulmonary and Critical Care Morbidity and Mortality: Monthly conference to present morbidities and mortalities and review teaching points.
Pulmonary/ Critical Care textbook review: The goal is to review textbook chapters to prepare for the shelf and board exam.