IV. Didactics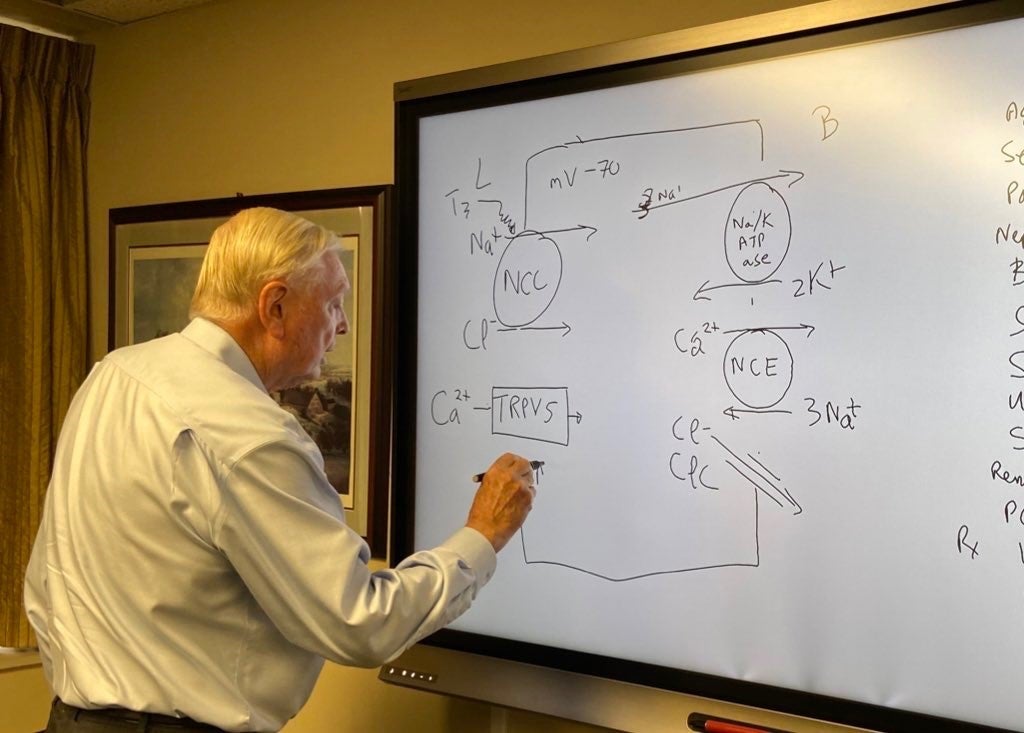 MedStar Georgetown University Hospital Division of Nephrology and Hypertension takes pride in its didactic series that provide every fellow the information to assist in their training/education.
---
The didactics are complemented by:
Dahlgren Library Access ( can be accessed from home)

Provides access to a multitude of Nephrology references such as Brenner and Rector's The Kidney / KDIGO Guidelines / Pathology Atlas / ECT

Access to PubMed
Access to UpToDate
Full reimbursement to attend the NKF conference (first years)
Full reimbursement to attend the ASN conference (second years)
A personal copy of the Handbook in Nephrology and Hypertension by Christopher Wilcox, M.D., Ph.D. and the Primer on Kidney Diseases (newest edition) by Arthur Greenberg, M.D.
---
Didactic Schedule
Schedule is subject to change
Monday
Tuesday
Wednedsay
Thursday
Friday
8:00-9:00 am
Journal Club (1st & 3rd)
Renal Pathology Conference
Case Conference
Core Curriculum Lecture Series
12:00-1:00 pm
Department of Medicine Grand Rounds
1:30-2:30 pm
Transplant Nephrology Series
5:00-6:00 pm
Board Review Course
5:30-7:30 pm
Fed-Med Interhospital Clinicopathological Conferences
Transplant Nephrology Lecture Series
The clinical transplant nephrologists lead a didactic series focused on all aspects of renal transplantation.
The transplant lecture series is designed to give additional background and to provide a literature review on selected topics. The structure of the series is designed to transition from more passive learning (primarily directed lectures on selected topics) early in the year to more active participation (in the form of case conferences) and ultimately to get the nephrology fellow to lead the teaching by the end of the year (through case conferences and their own presentations). Lectures are attended by the transplant nephrology fellow, the surgical transplant fellows and the general nephrology fellows allowing each discipline to add their own experience and viewpoint to the discussion.
In addition to providing information on a variety of topics, the series is also designed to highlight the strengths and weaknesses in the transplant literature and provide examples of common features and problems found in the design of transplant studies. It is hoped that the literature reviews enable better critical thinking by the fellow in reviewing research and in designing their own research protocols.
Transplant Lecture topics include:
​Introduction and Overview of Transplantation
Transplant Immunology
Tissue Typing
Pathology- Banff Classification
Clinical Aspects of Rejection
Kidney Allocation Policy
Recipient Evaluation
Donor Evaluation
Calcineurin Inhibitors
mTORs and celecept
Antimetabolites
Steroids and Steroid Sparing Agents
Induction Agents
Pancreas Transplantation
Delayed Graft Function
Marginal Organs
Polyomavirus Associated Nephropathy
Cytomegalovirus
Surgical Issues
Simultaneous Liver/Kidney Allocation
Allograft Failure
Journal Club
A clinical scientific research article is selected. New articles alternate with classic articles that have shaped modern Nephrology. There is a fellow presentation and attending-led critique to help fellows learn how to evaluate modern statistics and clinical methods. All attendings are present.
Fellows Clinical Lecture Series
This conference is given by clinical faculty at the Georgetown Division of Nephrology. It provides a two-year comprehensive review of the key clinical and scientific topics in Nephrology and Hypertension.
General nephrology lecture topics include:
The Glomerulus
Potassium/Magnesium Physiology
Introduction to Renal Function, Renal Circulation, Renal Transport, GFR
Genetic Tubular Disorders
Proximal Tubule, Loop, and Countercurrent Mechanism
Normal Blood Pressure, Renal Sodium Handling, Salt Sensitivity, Edema
Diuretic Action and Resistance
Hyponatremia and hypernatremia
Vascular Access
Renal Imaging/Contrast Nephropathy
CKD Management
Lupus Nephritis
Hypertension Trials
FSGS and Minimal Change
IgA Nephropathy
TMA in Renal Diseases/TTP/HUS/AHUS
Secondary Hypertension
ANCA Vasculitis and Anti-GBM
Membranous Nephropathy
Amyloidosis/Light and Heavy Chain Deposition
Dialysis In Depth
Nephrolithiasis – Nephrologist Prospective
Renal Pathology
This conference is coordinated by the Georgetown University Department of Pathology. Cases are selected from both adult nephrology and kidney transplant patients. Attendings and fellows from MedStar Georgetown and Washington Hospital Center attend this shared conference.
Clinical Case Conference
This conference is a fellow driven morning report style of conference focusing on interesting cases from the three inpatient consultation services alternating with selected patients from the outpatient clinics. All attendings are present and help to provide an environment for general discussion and learning.