Ambulatory Education
The goal of our ambulatory curriculum is to prepare our residents to function independently in the outpatient setting, no matter what they decide to do after training.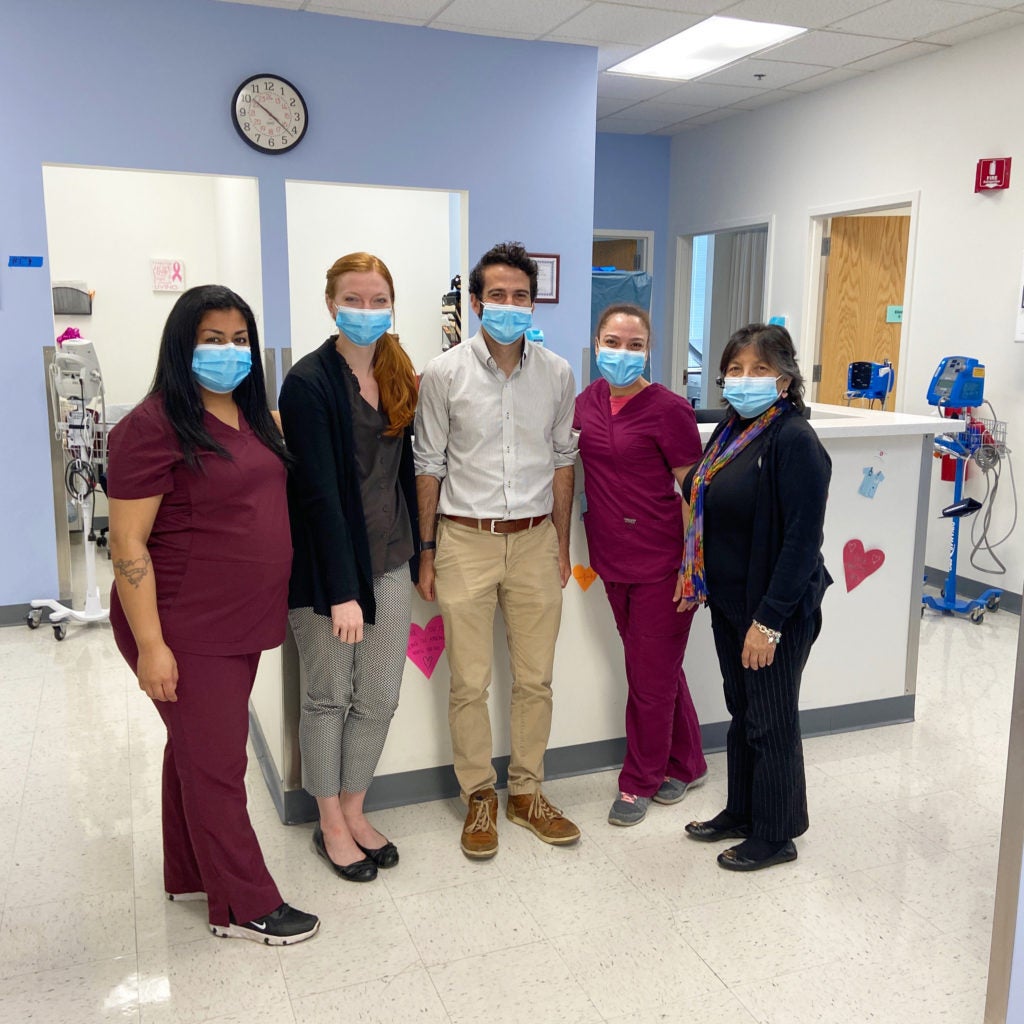 The core of the ambulatory experience is the continuity clinic. Each resident serves the same continuity clinic site for the entire duration of residency at one of three sites: Georgetown University Hospital, the Veterans Affairs Medical Center, and the Virginia Hospital Center. Each clinic provides a rich ambulatory experience where residents work closely with Medicine faculty dedicated to the
Georgetown tradition of teaching and mentoring. Residents develop a panel of patients and serve as the primary physician for those patients for the duration of their three years.
Our comprehensive evidence-based curriculum complements our residents' clinic experience through lectures and seminars covering common ambulatory medical problems, including acute illness, chronic disease management, and preventive care. Our intern-specific curriculum covers the basics of outpatient care, while the 2-year resident curriculum covers more in-depth topics and high-value care.
Schedule
Our 4+2+2 schedule is entering its 6th year, and sample schedules of an intern and resident are shown below. During a 2-week clinic rotation, a resident will rotate through their continuity clinic and a subspecialty elective of their choice; have administrative time to contact patients; and set aside didactic time.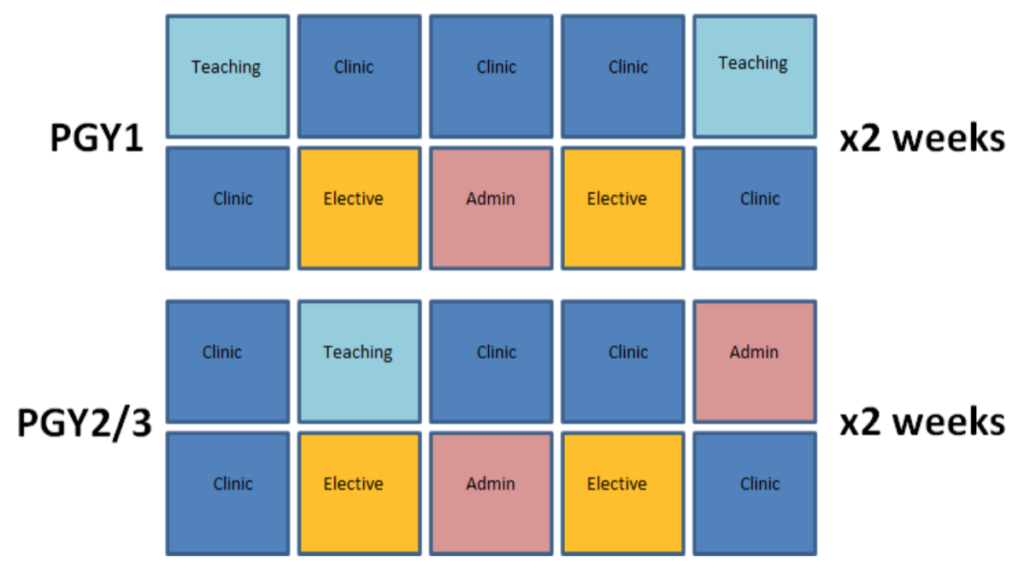 Sub-Specialty Clinic
Given most of medicine is practiced in the outpatient setting, residents rotate through subspecialty clinics. For those residents looking to become primary care physicians, our program allows residents to rotate specialties from block to block to provide a breadth of experience. We also provide the opportunity to work with community primary care physicians for a non-academic outpatient experience. For those residents who are choosing to apply to fellowship, we also encourage a recurring subspecialty clinic experience to complement the inpatient elective experience and foster mentorship with specialists.
Mind-Body Medicine
Finally, the program's Mind-Body Medicine curriculum is an integral part of the ambulatory experience. Residents are paired with core faculty for afternoon sessions that consist of a mindfulness practice, a communal meal, and free personal time.
Clinic Locations:
General Internal Medicine Clinic at Georgetown Hospital
Our busy clinic serves a variety of patients, from college students to
nonagenarians, worried well to complicated transplant patients, and everyone in-between. Residents and interns are divided into color clinics, headed by a GIM faculty member, to promote continuity for patients. Residents often refer hospitalized patients to our clinic and continue to follow them after discharge!

Clinic Site Director: Dr. Allison Windels, MD
Please see our Meet our Faculty page for her bio as our APD
Virginia Hospital Center Clinic
Virginia Hospital Center's Outpatient clinic (affectionately known by its patients as, "La Clinica") serves the uninsured and underinsured residents of Arlington, Virginia. Residents there work side by side with the OBGYN's, general surgeons, orthopedic surgeon, and endocrinologist that also staff the clinic. As a safety net clinic in the community, many cases traditionally relegated to specialty care are managed by the Internal medicine team such as neurocysticercosis, hepatitis C, lupus, and rheumatoid arthritis, to name a few. The population is very diverse from Virginia natives, 1st generation immigrants from Central America, South America, Mongolia, and many scattered countries throughout Africa and Asia. The clinic staffs full time interpreters and uses a variety of telephonic/video communication tools to communicate through a wide variety of languages. The clinic is directed by Georgetown IM graduate, Dr. Justin Musaffi, D.O. and the Chief Ambulatory Resident, Dr. Brienne Keyloun, M.D.

Clinic Site Director: Dr. Justin Musaffi, D.O.
Dr. Musaffi, is the Medical Director for Virginia Hospital Center's Outpatient Clinic. He completed his residency training at Georgetown and his year as Chief Resident in 2017 and is currently on faculty at MedStar Georgetown's Internal Medicine clinic. He acts as attending physician at Georgetown and VHC clinic, splitting the sessions at VHC with the current Ambulatory Clinic Chief, Dr. Brienne Keyloun, M.D. He has an academic interest in metabolic diseases and the role of dietary changes in their treatment as well as tropical infectious diseases.
Veterans Affairs Clinic at the Washington, DC VA
The VA Primary Care Clinics provide exceptional care to our local veterans. Residents see a combination of continuity patients and urgent care visits, with emphasis on developing longitudinal patient relationships. The VA provides a unique experience of centralized health care, which provides educational opportunities to collaborate with women's health, mental health, and medical and surgical specialties.

Clinic Site Director: Dr. Caitlin Crowther, MD
Dr. Crowther is a graduate of the Georgetown University School of Medicine, and remained at Georgetown for her internal medicine residency and chief residency. She has been working in primary care at the Washington DC VA Medical Center since 2012, and is active in both medical student and resident education.