Residency Program Features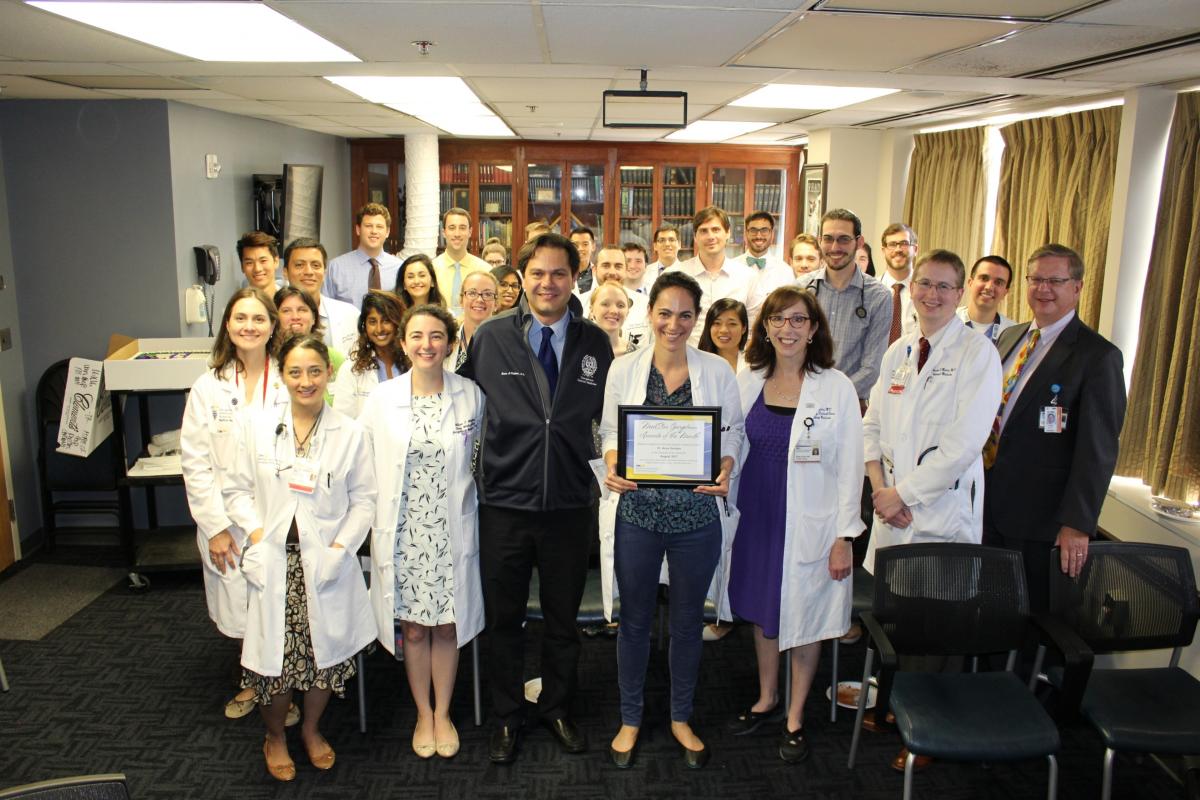 Our strong inpatient and ambulatory program emphasize the central importance of education in all of our clinical activities, both at Georgetown and at our affiliated institutions. During the three years, the resident will encounter the entire range of acute and chronic illness seen in the community, the inner city, as well as the tertiary referral center. You will also encounter a program with a unique focus and commitment to continuity education for your future practice.
---
Specialty Electives
Georgetown University Hospital offers elective rotations in all the core subspecialties within Internal Medicine. This includes Hematology/Oncology, Endocrinology, Rheumatology, Infectious Diseases, Cardiology, Gastroenterology, Hepatology, and Nephrology. In addition there are several added options listed below.
Advanced Lung Transplant
Second and third year residents are able to pursue an elective in the Advanced Lung department at INOVA Fairfax. This unique rotation allows our residents to obtain insight into lung transplant patients as well as advanced pulmonary disease. Half the rotation is spent on the in patient service and the other half is outpatient. The resident's gain invaluable experience in the management of lung diseases and spend time with experts in the field. There is also plenty of opportunities for research in the pulmonary field.
Advanced Heart Failure
Second and third year residents can rotate through an advanced heart failure elective at Washington Hospital Center. On this month long rotation, the resident will learn about the management of end stage heart failure, including mechanical support with LVADs and heart transplantation. On this rotation, the resident take on two roles. They will take new consults as well as manage patients on the heart failure service. We offer a similar elective rotation at INOVA Fairfax Hospital.
Interventional Pulmonology
Second and third year residents have the opportunity to further their knowledge in pulmonary by rotating through IP at Georgetown Hospital. This 2 week rotation focuses on bronchoscopy technique as well as advanced diagnostics with bronchoscopy, including EBUS and endobronchial valves.
General Internal Medicine Consults
Third year residents spend a month block on General Internal Medicine consults (GIM). On this rotation, the residents work closely as a consultant to the surgical and non-medicine services for management of medical comorbidities. During this time, the resident will learn peri-operative medicine, including risk stratification and post-operative VTE management. They also get an understanding of the surgical specialties and how to co-manage patients together.
Procedure Elective
One of the electives available in our +2 week is the Procedure Elective. Residents on procedure elective hone the skills of the most common internal medicine procedures such as paracentesis, thoracentesis, central line placement, dialysis line placement, and arterial line placement. Residents practice their point of care ultrasound skills and learn tips and tricks from the Procedure Hospitalist and the PICC line team.
Health Policy Elective
Our residents engage in public health and health policy directly in the nation's capital during this annually offered elective. Our internal medicine residents join with 4th year medical students at Georgetown University School of Medicine as well as residents across other specialties to meet health policy experts and go on a series of field trips to NGO's, government agencies, and congressional offices in order to directly interact with policymakers. Theory is brought to practice within this multidisciplinary elective, which educates our residents directly in topics such as healthcare inequalities, health reform, insurance systems, and healthcare economics.
---