Research Opportunities for Residents: Internal Medicine
Overview of the Resident Research Program: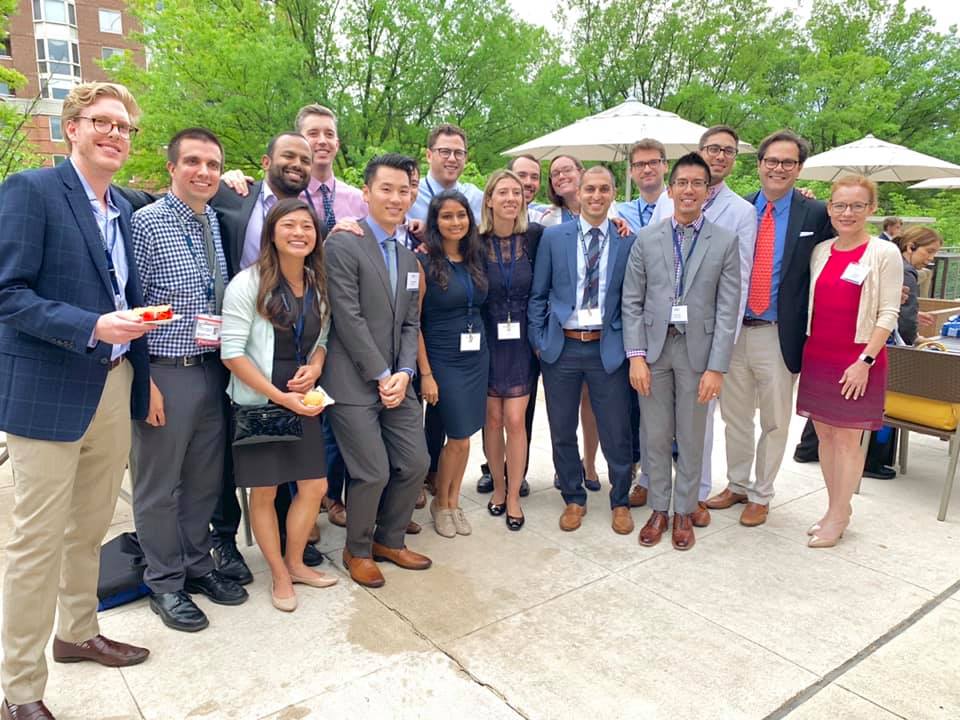 The Department of Medicine has a true commitment to research and scholarly activities. As part of this commitment, it has established a Residency Research Program that is under the direction of the Associate Program Director for Research, Dr. Joseph Timpone. As part of the residency training, all Categorical Medicine and Combined Medicine-Pediatric residents are required to present a research/scholarly project prior to the completion of their training. To this end, residents are permitted to use up to 12 weeks of elective time to perform research. Residents will have the opportunity to meet with the Program Director and the Associate Program Director to determine and discuss their particular research interests and then be linked with an experienced faculty mentor.
Resident Research Opportunities and Resources:
Mentor Opportunities:
The Associate Program Director (APD) serves as a liaison for all faculty mentors throughout the MedStar Georgetown Residency Program. All residents interested in research and scholarly activities meet with the APD for Research, Dr. Joseph Timpone, and are matched with an appropriate faculty research mentor in their field of interest. In addition to working with mentors at MGUH, our Residents participate in Research Projects with Faculty Mentors at all of our affiliate hospitals. We have a robust list of faculty mentors who are involved in Research in all of the Medicine sub-specialties.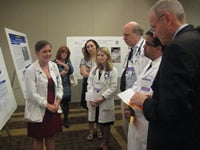 MedStar Health Research Institute (MHRI):
As a resident at MGUH, one has access to all of the resources provided by MHRI. All residents have 30 hours of free biostatistical support from MHRI for each project that he or she participates in. Additionally, MHRI has an extensive patient clinical database throughout the entire MedStar system that can be used for data mining to answer a clinical research question. For further information regarding MHRI, please navigate using this following link.
Poster Printing: The Department of Medicine will provide support for poster development and printing free of charge to residents who are participating in regional or national conferences.
Resident Travel Support: The Department of Medicine provides travel funding for residents who submit abstracts to national conferences and are invited to present their work. Every year, approximately 30-35 residents have their abstracts accepted and are invited to present at national meetings in all of the sub-specialties. Our annual budget for Resident Research Travel is $20,000.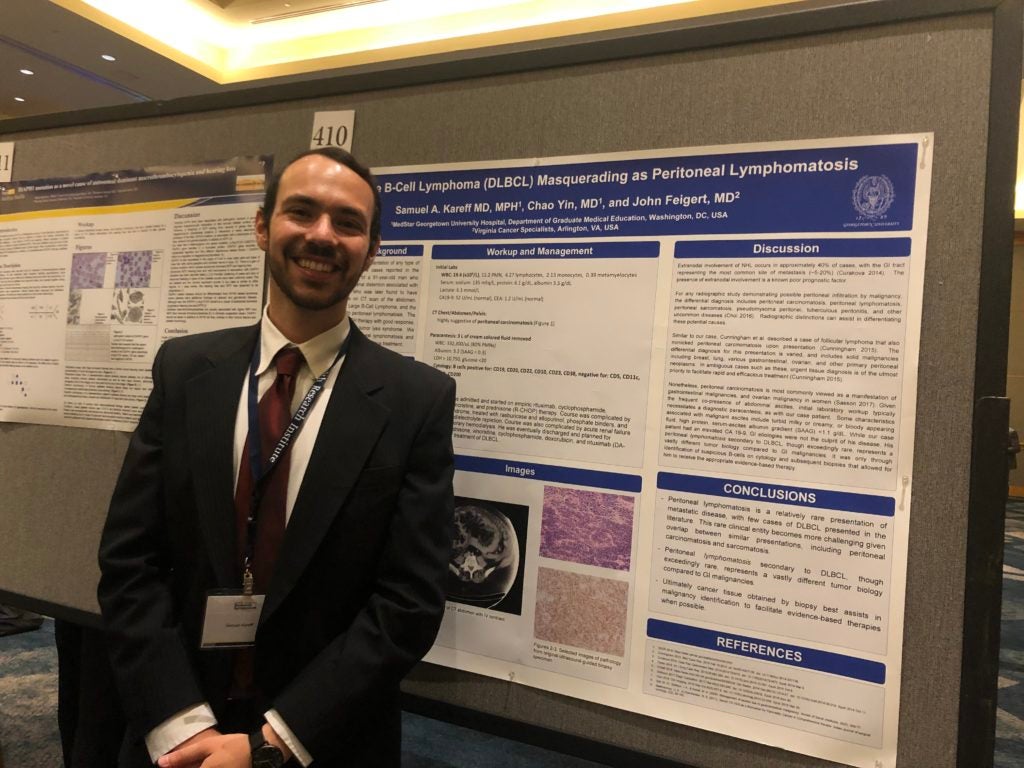 National & Regional Presence:
Residents have been invited to present their scholarly work at multiple national conferences including:
American College of Cardiology
American College of Chest Physicians
American College of Gastroenterology
American College of Physicians
American Heart Association
American Society of Clinical Oncology
American Society of Hematology
American Thoracic Society
American Transplant Congress
Association of Allergy and Immunology Annual Meeting
CHEST
Digestive Disease Week
Infectious Disease Society of America
Society of General Internal Medicine
Society of Hospital Medicine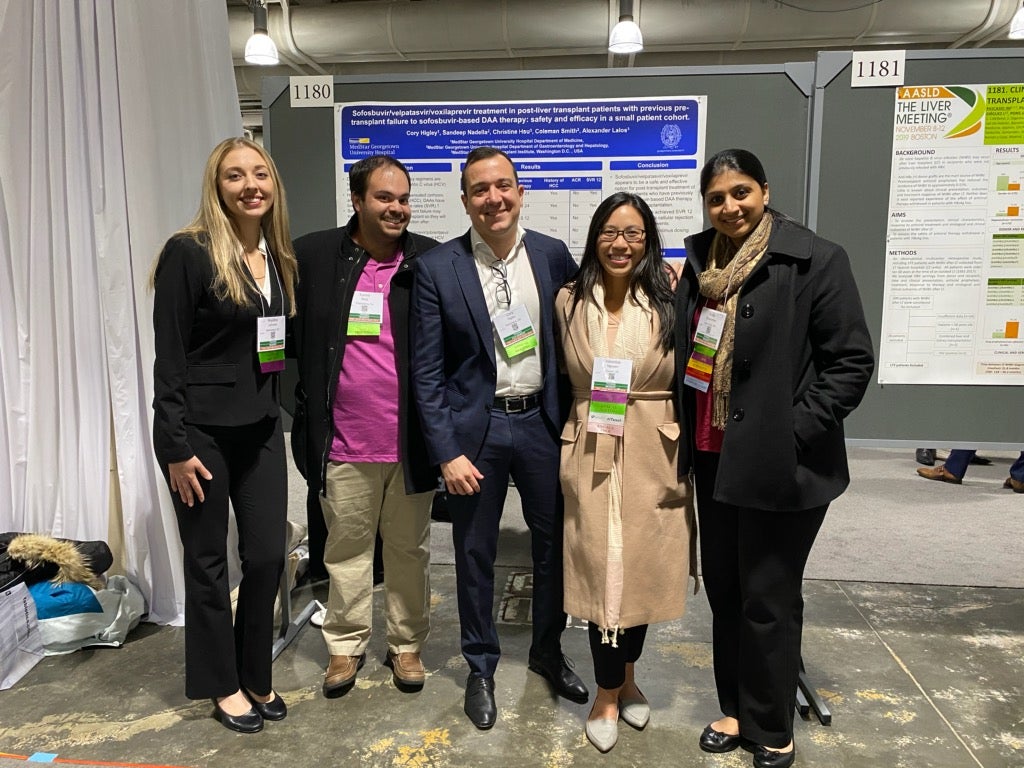 The Department of Medicine encourages participation in the regional American College of Physicians (ACP) Associates' Day Research Competition. Every year approximately 15 residents represent the Georgetown program at this exciting venue. Our residents have often placed first in this competition and have represented the Regional ACP at the National Meeting; this includes first place in the Medical Jeopardy/Doctor's Dilemma Competition in 2019.
Due to COVID-19, the Regional ACP meeting went virtual and below were our Resident Participants:
Podium Presentations:
Clinical Vignette: David Toro Tobon "Esophageal actinomycetoma: a rare infectious presentation mimicking malignancy"
Clinical Research: Bryan Stone, Shandiz Shahbazi, Dana Alsaadi, Wei Yan, Andrew Stevens, James H. Lewis "The Etiology of Elevated Aminotransferases in the ICU and their Effect on Mortality"
Poster Presentations: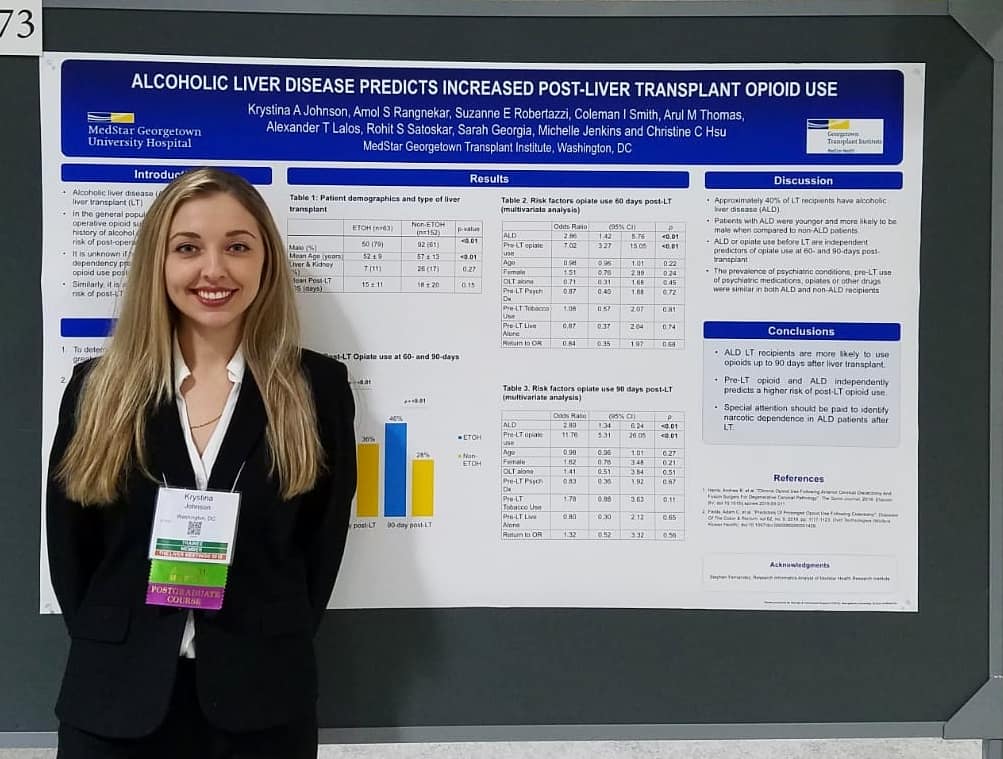 Lacey Williams MD; Kimberley Doucette MD, MSc; Adrese Kandahari MD; Allison Taylor MD; Shuqi Wang MSc; Jaeil Ahn Ph.D; Mary-Elizabeth Percival, MD*; Catherine Lai MD, MPH "The Role of Albumin Level as a Prognostic Factor for Overall Survival and Treatment-Related Complications in Acute Myeloid Leukemia (AML)"
Shalini D. Allam, Patrick J. Miller, Michael Yang, Monvadi Srichai-Parsia: "Resident Assessment Of Cardiac Function In Outpatients By Handheld Point Of Care Ultrasound"
Chagai Mendelsen, MD "Prevalence of Angiotensin/Neprilysin inhibitors in cardiology clinic"
Samuel Kareff, MD "Effects of a Resident-Led Subject Exam Review on Mean Scores of Internal Medicine Shelf Exam: A Case-Control Study."
Ahmed "A Case of Hemolytic Anemia Secondary to Severe Babesiosis in the Setting of Immunosuppression"
Nayrana Griffith M.D., M.B.A. a , Shannon Lance D.O. a, Lindsey Orr M.D. b, Ajeet Vinayak M.D "Concern for Pericarditis in a COVID-19 Positive Patient"
Paul Sackstein, MD; Samantha Armstrong, MD; Gabriela Bravo-Montenegro "A difficult diagnosis: Thymoma-associated Paraneoplastic Encephalitis Presenting as Seizure"
Abra Guo, Rachel Barish, Mondavi B. Srichai "Incidental Left Atrial Appendage Aneurysm" (1st place)
Residents have been invited to present their scholarly work at multiple regional conferences including:
American College of Physicians Associates Meeting
DC Thoracic Society
MedStar Research Symposium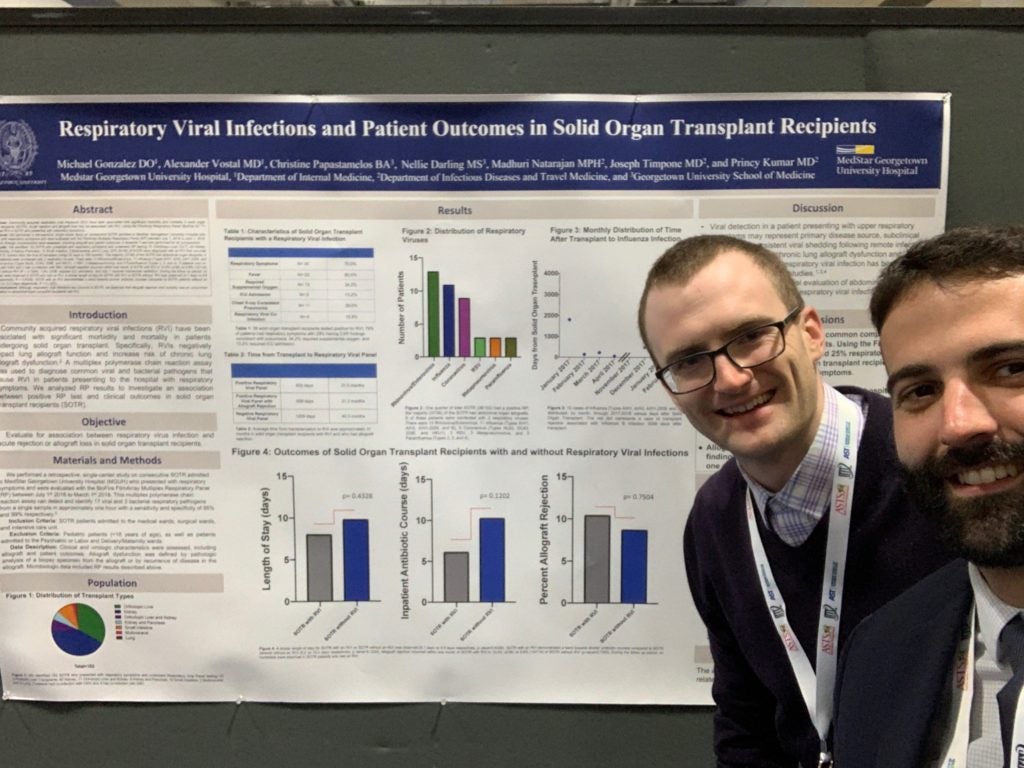 Department of Medicine Research Day: The Department of Medicine hosts an annual Research Day which showcases the research work that has been completed by medical students, medical residents, fellows, post-doctoral fellows, and junior faculty members. Research Day includes a keynote speaker, as well as a poster competition that is judged by teams of faculty members from the Department of Medicine. DOM Research Day takes place in the Ballrooms of our Leavy Conference Center where nearly 350 faculty, residents, fellows and students come together to enjoy an evening of science, fine food and spirits. This event takes place every May and $1,000 cash honorarium is awarded to each first-place winner in their respective category. The winners from Research Day are also invited to give an oral presentation at a subsequent Department of Medicine Grand Rounds. This event is the culmination of all the hard work and dedication that our residents put towards their research and scholarly projects.
Due to the COVID-19 pandemic, our DOM Research Day went virtual this year and below is a list of some residents' work that was presented:
Bryan Stone (PGY2): The Etiology of Elevated Aminotransferases in the ICU and their Effect on Mortality
Krystina Johnson (PGY2) Bryan Stone (PGY2): A Web-based Comparison of Traditional Didactics and Flipped Classroom on the Management of Clostridioies difficile Infection Among Internal Medicine Interns
Chagai Mendelson : Utilization of SGLT2 Inhibitors in the Outpatient Setting; Iatrogenic QT Prolongation in Treatment of COVID-19
Ariella Goldblatt: A Case of Atraumatic Splenic Rupture; Factors Associated with Delays in Diagnosis and Treatment of Malaria in Returned Travelers
Gemma Reddin: Role of Left and Right Ventricular Speckle Tracking Echocardiography to Assess Cardiac Involvement in Patients with Sarcoidosis and Left Ventricular Global Longitudinal Strain Assessment in patients with Takotsubo Cardiomyopathy
Daniel Ruiz (PGY2): Transcatheter Aortic Valve Replacement in Low-Risk Patients with Symptomatic Severe Aortic Valve Stenosis
Spandana Thenkabail (PGY1): Atypical Findings of Hepatic and Splenic lesions in a patient with confirmed HLH
Abra Guo: Incidental Left Atrial Appendage Aneurysm
Jacob Zaemes: "A rare cause of Cushing's syndrome"
Nikka Neuda: Bacterial Endocarditis: unexpected complication following Rezum procedure for BPH
Spencer Schrank: "Risk Factors for SARS-CoV-2 Infection: A point Prevalence study at a Tertiary Care Center"
Alexander Vostal: "The Role of Respiratory Panel PCR in Decreasing Antibiotic Exposure in Patients Diagnosed With a Respiratory Viral Infection"
Kaitlin Markoja: S. intermedius identified via 16S rRNA as cause of culture negative fatal brain abscesses and endogenous endophthalmitis in an immunocompetent patient
For a sample of what our Residents have presented in the past, please see our past programs:
MedStar Health Research Symposium: MHRI sponsors an annual Research Symposium, and our Residents have always been invited to participate and present their work.
Although medical education and patient care are the most important aspects of the residency training program at MedStar Georgetown University Hospital, our program offers many exciting opportunities for the medical house staff to participate in clinical research. If you have more questions regarding the residency research program, please feel free to contact Dr. Joseph Timpone.