Michael Adams, MD, Clinician Educator Track
The purpose of the Michael Adams, MD, Clinician Educator Program (MACE) is to provide a standardized curriculum for residents interested in Academic Medicine and to integrate already existing teaching opportunities across the Department of Medicine, the Graduate Medical Education Office, and the School of Medicine.
Internal Medicine and Internal Medicine and Pediatrics residents apply during their intern year. They will participate in a teaching curriculum during their second and third years. Additionally, they will benefit from close mentoring relationships and engage in a scholarly project related to clinical education.  Participants will gain important firsthand teaching experience during their third year and will rotate in a dedicated month-long teaching elective (ARGY).
The love of teaching is deeply built into the culture at Georgetown.  The program is named in honor of Dr. Michael "Mike" Adams, Georgetown's former Internal Medicine Program Director, who inspired countless medical students and residents at Georgetown through his energetic and compassionate teaching and leadership. Dr. Adams was truly a skilled clinician educator whose impact continues to live on at Georgetown.
Mission
To foster the development of residents as educators and leaders via didactics, hands-on teaching experiences, scholarship, and close mentorship in order to become confident and skilled clinical educators.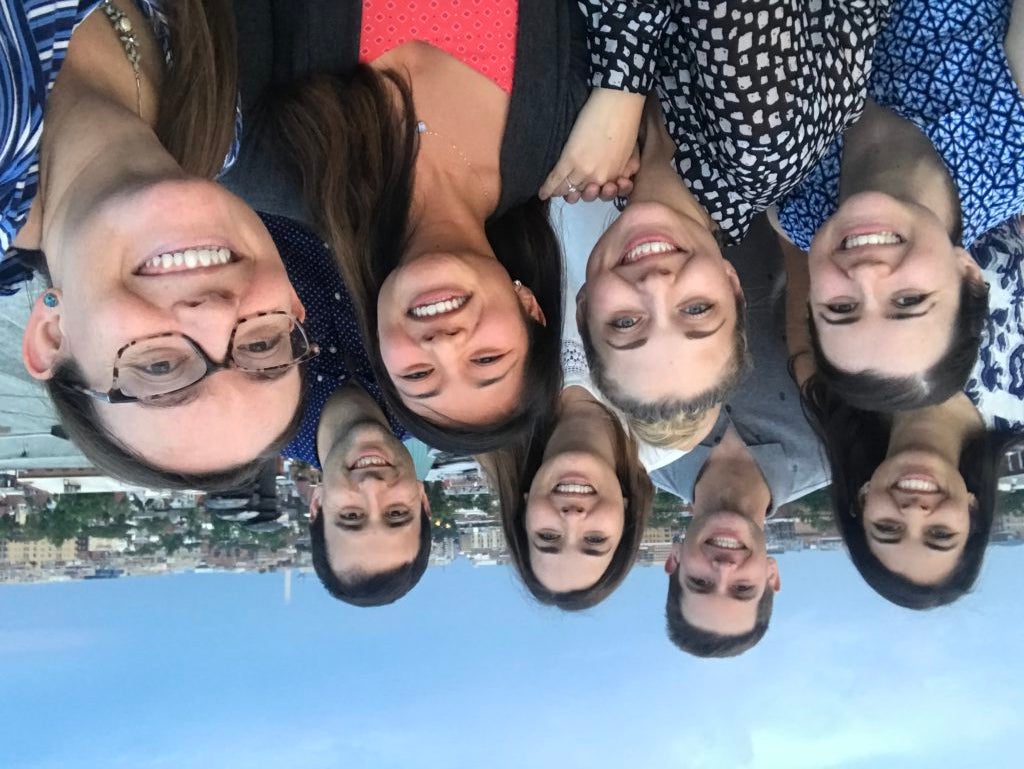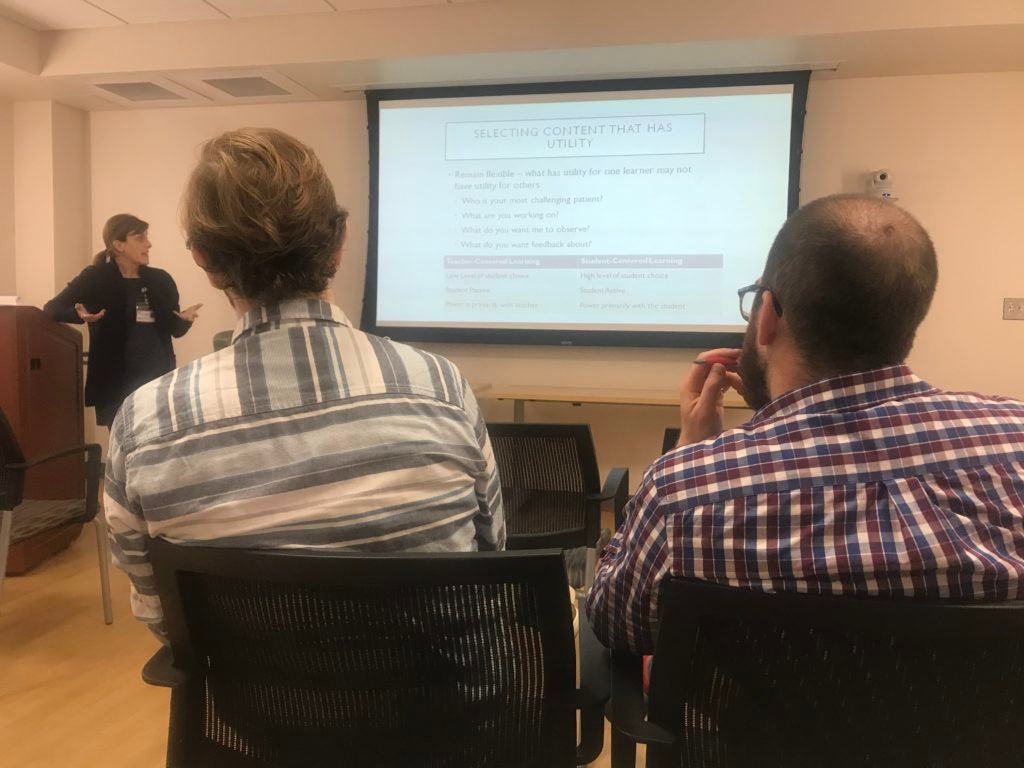 Requirements
The MACE Program is open to Internal Medicine and Medicine/Pediatrics residents with an application due on January 1 of his or her PGY 1 year.  Acceptances will be announced by February 1. The core curriculum will begin during the PGY 2 year. 
Track Components
Apply for membership in the GUMC Teaching Academy for the Health Sciences
Longitudinal Curriculum throughout the PGY 2 and PGY 3 years that includes didactic lectures, small group sessions, and journal clubs.
Clinical Teaching Experiences that culminate in the month long Argy Teaching Elective as a PGY 3
Scholarly Project 
Mentorship with a resident-nominated Clinician Educator Faculty member
Partnership with the Allan J. Goody, MD, Bedside Rounding Program and Allan J. Goody, MD, Visiting Professorship in Medical Education
Timeline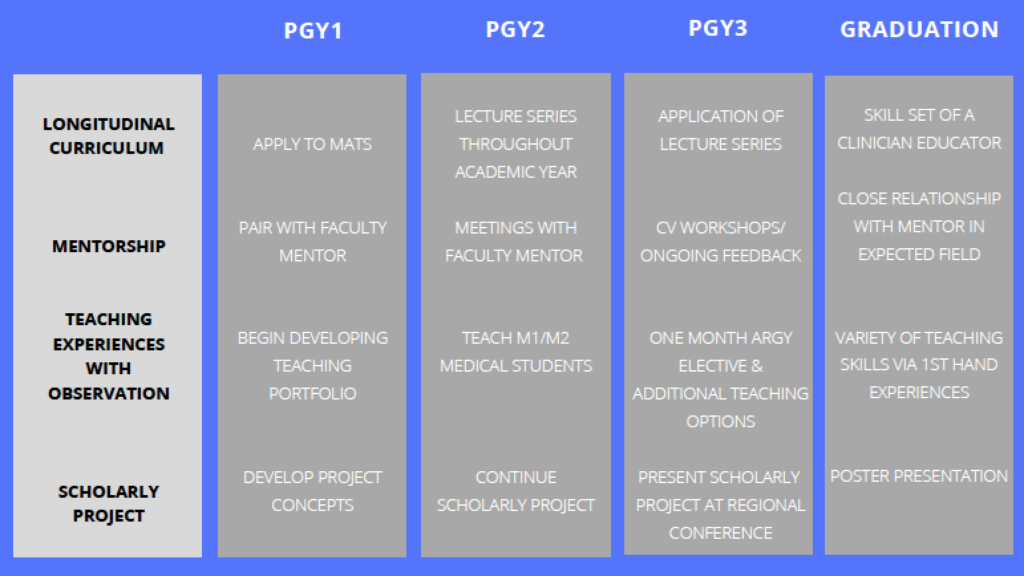 Resident Testimonial
"One of the most exciting parts of starting fourth year of medical school for me was to help teach the third year students. Yet as I started to teach, I felt underprepared and overwhelmed. With time, I have begun to feel more confident. However, I believe having a Clinician Educator Track at Georgetown and uniting our existing education resources would help me and other residents develop into skilled clinical educators. 
So much of the field of medicine and residency is part of a hidden curriculum that you pick up by observation and experience. The inspiration and goal of this track is to offer a clear curriculum for residents interested in education, providing lectures and firsthand teaching experiences, to allow residents to be confident educators when they graduate and start their careers."
— Kerry Ryan, Residency Class of 2020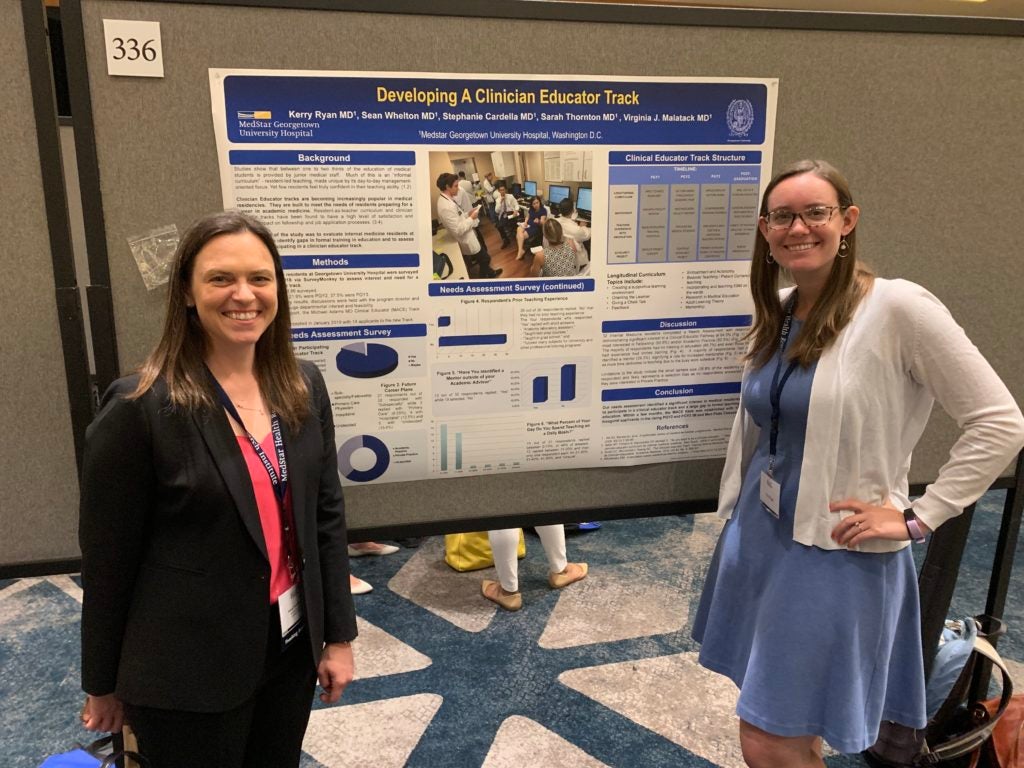 Contact Information
MACE Directors
Virginia J. Malatack, MD
Virginia.J.Malatack@gunet.georgetown.edu
Virginia Malatack is an Assistant Professor of Medicine at Georgetown University. She completed medical school at Jefferson Medical College in Philadelphia and residency at Baylor College of Medicine in Houston, and is a member of Phi Beta Kappa and Alpha Omega Alpha. She feels privileged to have the opportunity to partner with residents and great educators at Georgetown to build the Clinician Educator Track which will further develop the skills of residents to become academic medicine's future leaders. Dr. Malatack's interests include professional development for colleagues and residents, and medical care at the end of life. She is the medical director of the 2 North intermediate care unit and serves as a member of the residency Clinical Competency Committee and the hospital's Mortality Review Committee.
Sarah Thornton, MD
Sarah.C.Thornton@gunet.georgetown.edu
Sarah Thornton is an Internal Medicine and Pediatrics hospitalist. She graduated from the University of Kentucky College of Medicine in 2008. Sarah is a member of AOA, The Society of Hospital Medicine, and The American Academy of Pediatrics. She currently serves as the Assistant Program Director for the Med-Peds Residency program. She also serves as the liaison for Georgetown Medical Students rotating at Medstar Franklin Square as part of the Longitudinal Integrated Clerkship. She is in the MedStar Teaching Scholars program and has an interest in promoting residents and students as teachers.
Stephanie Cardella, MD
Stephanie.Cardella@gunet.georgetown.edu
A native of the DC area and Georgetown School of Medicine graduate ('11), Stephanie Cardella is now an Assistant Professor of Medicine at Georgetown University as a member of the division of Hospital Medicine. Dr. Cardella was first introduced to the idea of "residents as teachers" during her internal medicine residency and chief residency at the University of North Carolina, Chapel Hill. There she had the opportunity to participate in a teaching course led by master clinician educators as well as become a member of UNC's Academy of Educators. Dr. Cardella currently serves as the medical director of the Bles 4 unit and serves as a member of the residency Clinical Competency Committee and the hospital Ethics Committee.
MACE Chief Resident
Kerry Ryan, MD
Kerry.Ryan@gunet.georgetown.edu
Kerry is originally from New York City suburbs. As an undergraduate at Georgetown University, she studied Neurobiology and Government.  She went to medical school also at Georgetown University. During this time, she developed an interest and passion for medical education by developing the Learning Communities at GUSOM that foster education, mentorship, and community. She is a member of AOA and Gold Humanism Honor Society. She stayed as an Internal Medicine Resident at Georgetown, becoming a "Triple Hoya". She is a PGY-3 and is excited to work with Dr. Malatack, Dr. Thornton, Dr. Cardella, the faculty mentors, and residents in the MACE program!
Track Mentor
Charles A. Read, MD
Allan J. Goody, MD Endowed Professor in Medical Education
Professor of Medicine and Surgery
Vice Chair of Inpatient Services
Director of Adult Critical Care
MedStar Georgetown University Hospital