Meet Our 2019-2020 Chief Residents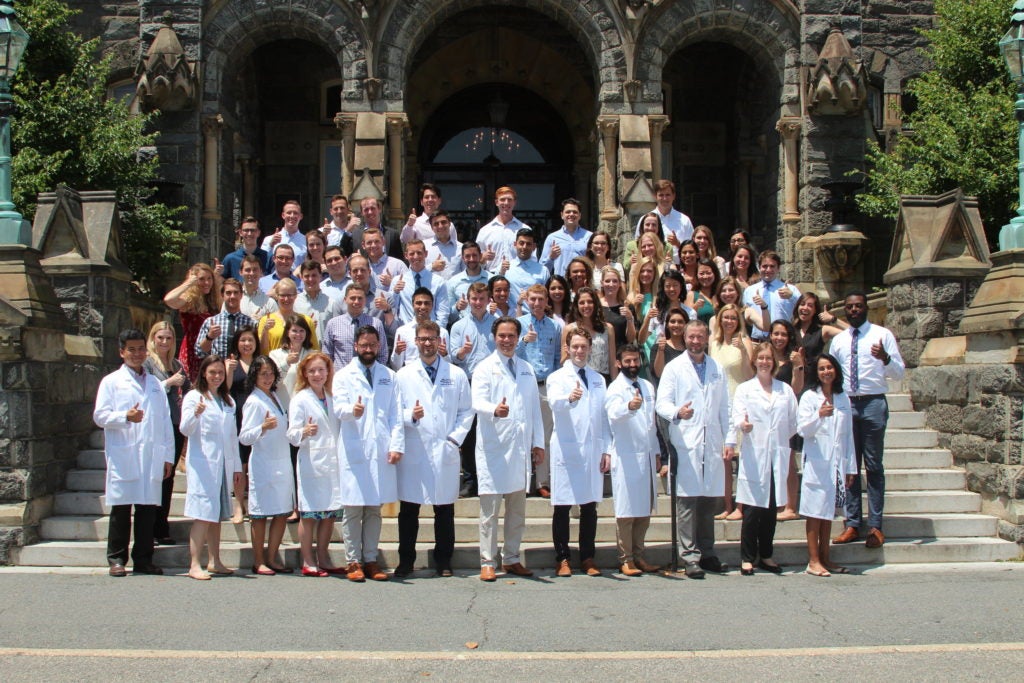 Georgetown & Virginia Hospital Center Inpatient Chief Residents
Athanasios Bikas, MD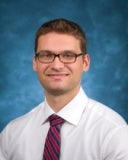 I was born and raised in Athens, Greece being the oldest child in our family of five. At the age of 18, I decided to follow in my father's footsteps, and after several years of medical education, I received my Medical Degree from the University of Athens, Greece. Research had always been particularly intriguing, and for that reason I started working towards my PhD in 2013. I moved to the US in 2014, seizing an incredible opportunity to continue my research and work on my field of interest (thyroid cancer) in basic and clinical research projects under the supervision of incredible mentors. In 2015 I applied for an Internal Medicine residency position and I was ecstatic to match at Georgetown. In my Georgetown family I am known as either the Thyroid Thanos (not the glove one) or the Greek Freak (Go Bucks!). My interests include Endocrinology, Thyroidology, Molecular Biology, and Academic Medicine. Outside of work, I love playing/watching basketball and soccer, hanging out with friends and exploring the incredible food scene in DC!
Talha Demirci, MD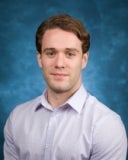 I was born in Ankara, Turkey and grew up in the small city of Konya, known for its association with Rumi, the mystical poet. At the age of 9, having only learned the word "hello" in English, I moved to the tundra that is Wisconsin for my first year in the US. Just as I thought life couldn't get colder, I spent a year in Syracuse, NY before settling down for good in Virginia. After undergraduate education at Old Dominion University and medical school at Eastern Virginia Medical School, I made my way to DC for Internal Medicine residency at Georgetown. My interests include pulmonary and critical care medicine and quality improvement. Outside of the hospital, I am an avid supporter of Besiktas, the best professional soccer team in Turkey! I love to travel and spend time with my family, and I live to eat!
Elizabeth Novick, MD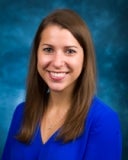 I was born and raised outside of Little Rock, Arkansas, surrounded by nature, Southern accents, and Razorback football. It was a magical 18 years before I decided to try something totally different and moved to NYC, completing an undergraduate degree in Anthropology at Barnard College. Afterward, I moved to Washington, DC to do clinical research in HIV at the NIH before going to Georgetown University for medical school. I fell in love with both Internal Medicine and Georgetown during medical school and was thrilled to match here for residency. It is an absolute privilege to be staying on as one of the Georgetown chief residents! My academic interests include medical education, women in medicine, infectious diseases, and palliative medicine. When I'm not in the clinic or hospital, I find my bliss by watching my husband cook, snuggling with my dog, reading until far past my bedtime (frequently re-reading the Harry Potter series), practicing yoga, and jogging around Capitol Hill.
Georgetown Ambulatory Chief Resident
Michael Gonzalez, DO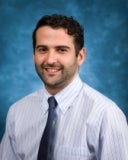 I was born and raised in Miami, Florida. Being from Cuban descent I naturally took up playing baseball among other things such as dominoes. I moved to central Florida to spectate Gator sports at the University of Florida while getting a biochemistry degree on the side. After undergrad I moved back to South Florida for medical school at Nova Southeastern University. Finally, I got the opportunity to escape the humidity of Florida and move to Washington, DC for Internal Medicine residency at Georgetown University. I later found out in summer that DC is just as hot and humid as Florida. My academic interests include primary care, infectious diseases, and medical education. Outside of medicine I enjoy being outdoors, traveling, cooking, and finding new restaurants and bars in the city.
Veterans Affairs Chief Residents
Ryan Commins, MD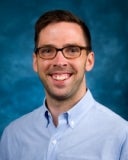 Ryan is from northern New Jersey. After a childhood running around soccer fields and playing music, he made the 4 year excursion to the University of Notre Dame, where his presence marked the second worst 4 year stretch of Fighting Irish Football (only to be surpassed by the class of 2011 the following year). He subsequently spent 2 years doing bench research and running marathons before going to medical school at Georgetown. While there, he fell in love with medicine (and his now wife). He stayed at Georgetown for residency and added an Irish Setter-doodle to his family during third year. He is excited to serve as one of the chief residents at the DC VAMC for the 2019-20 academic year. He is applying for pulmonary and critical care medicine fellowship and enjoys exploring the excellent DC restaurant scene, going to DC United games, and begrudgingly backpacking with his wife (don't tell her because she'll make him go on longer trips).
Ankush Ratwani, MD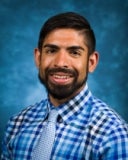 Originally from the swamps of central Florida, and once a neighbor to Mickey Mouse, he now resides in the presence of our nations leaders. His journey started in the land of the gators, University of Florida, where he studied Nuclear Science Engineering, and became of a fan of all things sports. After spending most of his days tailgating, and debating if Tim Tebow is actually good or not, he set his sights on the vibrant and bustling city of New York. After completing his medical degree at St. George's School of Medicine, he found himself actually enjoying seasons other than the sweat drenching heat of Florida. He actually enjoys the cold weather so much so now, he dreams of living in the mountains, and being known as the "King of the North". For now, he will continue to support the Georgetown family as Chief Medical Resident at the DC Veterans Affairs Medical Center. He is currently applying to a fellowship in Pulmonary and Critical Care medicine with particular interests in Lung Cancer and Interstitial Lung Disease. In his free time, he enjoys hiking, skiing, cooking, and trying new varieties of stouts and scotch whiskey.