In-Patient Rotations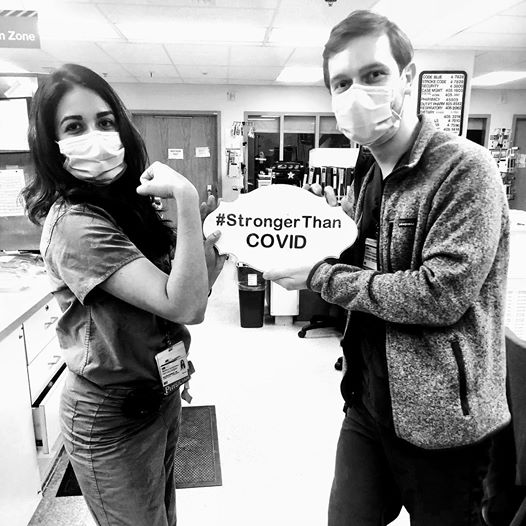 In-Patient Wards rotations are some of the foundational rotations of our residency program. Residents will rotate through three sites for their Wards rotations, primarily at Georgetown University Hospital as well as at Virginia Hospital Center (VHC) and the Washington DC VA Hospital.

Once or twice a year, residents rotate through medicine wards at VHC and the VA Medical Center. Both provide exposure to different patient populations as well as different admitting structures and team set-ups. VHC provides truly unique exposure to a combination of a local suburban community as well as an underserved and immigrant population. This variety teaches residents flexibility and confidence with different models of care. Residents consider this diversity of educational experiences a highlight of the program. Additional details on affiliate sites can be found here.
Georgetown Wards
The Georgetown medicine wards services are the heart of our program, and where you will spend the majority of your inpatient time. Georgetown is truly a resident-run hospital, and our wards experience reflects that. Residents are divided into one resident-one intern teams, which fosters strong relationships between classes and allows for graded autonomy for interns and senior residents. Teams also consist of one 4th year medical student and 2-3 3rd year medical students. Our academic hospitalists are excellent and love to teach in a supportive environment. However, senior residents truly run the team, managing rounds and teaching interns and students.

The majority of our wards teams are general medicine, providing exposure to a broad spectrum of pathologies at a tertiary referral center. This includes general medical floors with bread and butter medicine as well as intermediate care units caring for very sick patients. Our residents love our "geographic" services, which means that all patients are on one floor. This allows you to get to know our excellent nurses, pharmacists, case managers, and other important members of the team for that floor. We also have two specialty teams as part of our wards experience: hepatology and hematology/oncology.
Night Float Service
We have a night float system that includes two interns cross-covering all of our medicine patients and 1-2 senior residents admitting new patients to the wards services. It is a challenging but satisfying month of significant growth. There is always a nocturnist in-house to supervise the residents.
Hepatology Service
Georgetown is one of the busiest liver transplant services in the region, and residents on hepatology wards get to work with the top hepatologists who also happen to be fantastic teachers. Residents gain valuable experience caring for sick patients with decompensated cirrhosis, performing paracentesis and other procedures, and learning about the transplant evaluation process.
Hematology Service
The Lombardi Cancer Center, part of Georgetown University Hospital, is a top cancer center in the region. Residents rotate through our inpatient hematology/oncology service, attended by subspecialists and fellows. There, they learn to manage patients with a broad array of oncologic as well as malignant and benign hematology pathologies. They learn cutting edge treatments, including patients on clinical trials.
Admitting Service
Uniquely at Georgetown, our residents rotate through a separate admitting service of one resident and one intern. Our wards teams do not admit their own patients, but rather accept new patients daily on a "drip" system. This allows residents on wards to focus solely on the care of existing patients while on wards, and then on admitting new patients when on the admitting service. Residents love that this also creates a more regular and predictable schedule.