Resident Education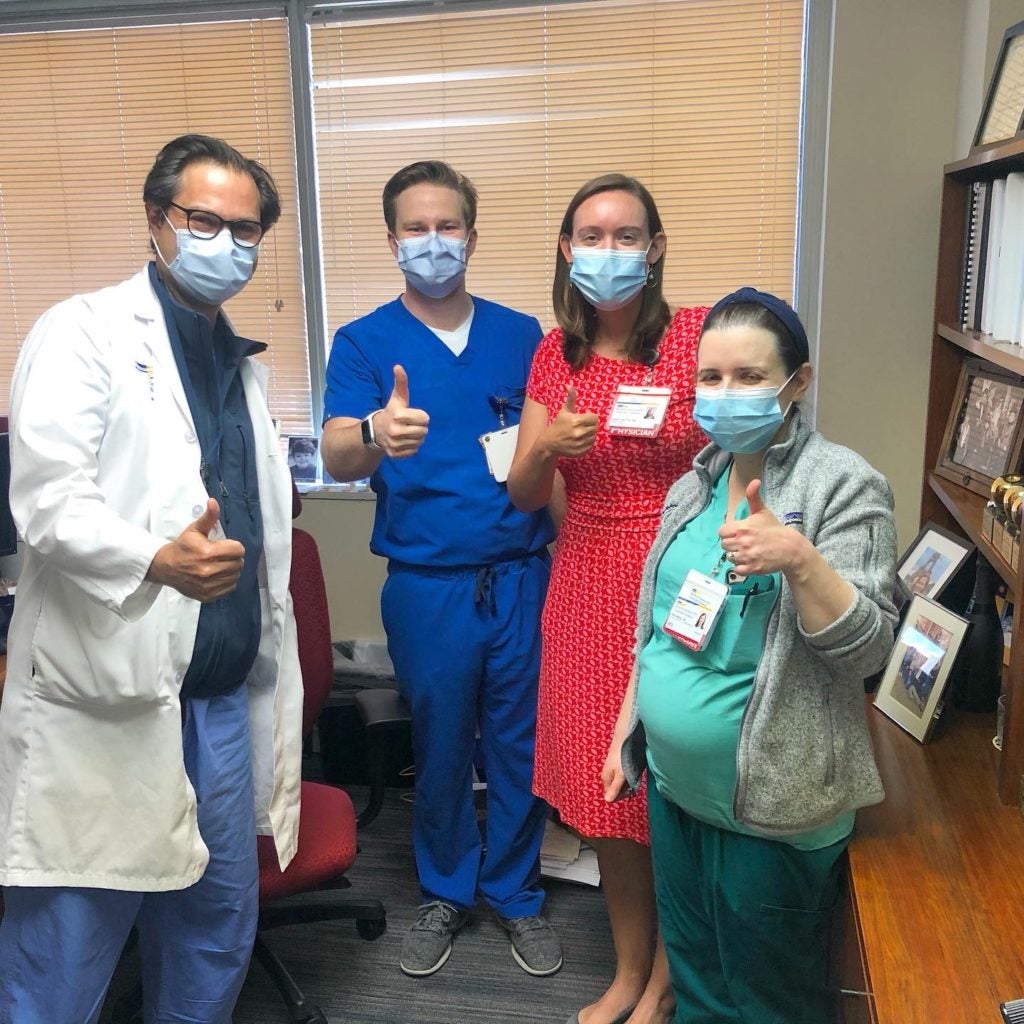 Resident education is the primary focus of our Internal Medicine Residency. Each rotation provides unique didactic opportunities for residents to learn the fundamentals of medicine as well as hands on learning as the primary physician for your patients.
Our schedule structure of 4 + 2 + 2 allows for consistent curriculum on our Ambulatory blocks as well as during in-patient months. Each block is roughly 4 weeks long and is represented below. Highlighted below are specific examples of education in our program.
Morning Report
Morning report is run by our Chief Residents at Georgetown and our affiliate sites four days a week. It is a highlight of the program. Each day starts with 2 board review questions, so that boards preparation is integrated throughout all three years. Morning report is interactive and includes a mix of interesting patient cases, topic reviews, small group sessions, as well as fun days of Jeopardy and Pictionary. The curriculum varies but in the beginning of the academic year, it focuses on large, high yield topics and progresses throughout the year as our residents hone their medical knowledge. Attendings from different specialties join to provide additional teaching points. On Thursdays, we have Intern Report, which combines check-ins, intern-appropriate topics, and preparing for becoming a senior resident.
Curriculum
A defined curriculum, as specified by the Accreditation Council for Graduate Medical Education (ACGME), is available to all residents, and includes those specific areas of knowledge, skills and behaviors which are inherent to the practice of internal medicine and necessary for academic excellence. The department and the residency are responsible for continuous review and modification of the curriculum to meet the changing field of medicine. The curriculum will be administered to train residents in the ACGME's six general competencies, namely, patient care, medical knowledge, practice-based learning and improvement, interpersonal and communication skills, professionalism, and systems-based practice.
Attending Rounds
Daily management rounds are conducted by the team senior resident in conjunction with the attending hospitalist, and are geographic in nature, greatly improving communication with our multidisciplinary team of nurses, social workers, case managers, and pharmacists. In addition, teams will meet with a designated "teaching attending" with a specific focus on education of our students and residents.
Noon Conference
Four days each week, teaching conferences are held for housestaff and students. The topics begin each year with an Emergency Lecture Series covering urgent and emergent management of a variety of medical disorders, and proceed through a core curriculum in Internal Medicine. Residents on elective are also encouraged to join.
Grand Rounds
The Department of Medicine hosts a weekly Grand Rounds that covers a variety of topics that are high yield to residents as well as faculty at Medstar Georgetown University Hospital.
Clinical-Pathologic Conference
Each month, a resident presents a case for discussion as an "unknown" or diagnostic dilemma. In problem-based fashion, the speaker guides the audience in the development of a differential diagnosis and presents a final clinical diagnosis prior to discussion of the autopsy or biopsy findings. The resident is assigned the unknown case as part of the Argy Teaching elective.
Board Review Lecture Series
Residents in their third year of training participate in review sessions in preparation for the Internal Medicine Board Examination. All residents take the In-Training Examination, sponsored annually by the Department, to identify areas of weakness to guide study and choice of electives. Study groups are facilitated by the residency program, beginning in the first year.
Physicians are continually educating patients whether that is teaching about a new medical condition a patient has developed or teaching life-style changes such as smoking cessation. Additionally, our interns and residents act as educators and role models for students, nursing, and additional staff. To support the development of these educator skills, residents are provided various opportunities to hone them.

Argy Teaching Resident
William P. Argy, M.D. (C '56, M '60) dedicated his career to teaching Medicine at Georgetown. He was an Internist and Nephrologist, who held the title of acting Division Chief of Nephrology before becoming the Director of Student Education and Clerkship Director in the Department of Medicine. He served as Clerkship Director from 1984 until his death in 1997, and throughout that time, taught and guided hundreds of Georgetown medical students as well as residents and fellows.
The Department of Medicine and Internal Medicine Residency now honors Dr. Argy with end of the year commemorative awards, and the Teaching elective for senior Medicine Residents is known as the "Argy elective."
The ARGY elective is a third year resident teaching elective. During this elective, the resident will hone the skills of teaching through various avenues of medical education. This includes, more formal didactic lectures, leading student morning report and working through a CPC case (discussed above).
Procedures
Early in your intern year, you will be trained in a simulation lab on how to place central lines. Throughout residency, there are plenty of opportunities to perform procedures! Any procedure on the floor is "yours," and there is a procedure service of hospitalists who will come and supervise you. An optional two-week procedure elective allows you to hone your skills with that procedure service. Regular simulation labs throughout residency help keep your skills fresh. And of course, residents get plenty of hands-on procedure experience in the ICU. Fellows are there to supervise or pitch in when things get busy, but residents do the bulk of procedures in the ICU.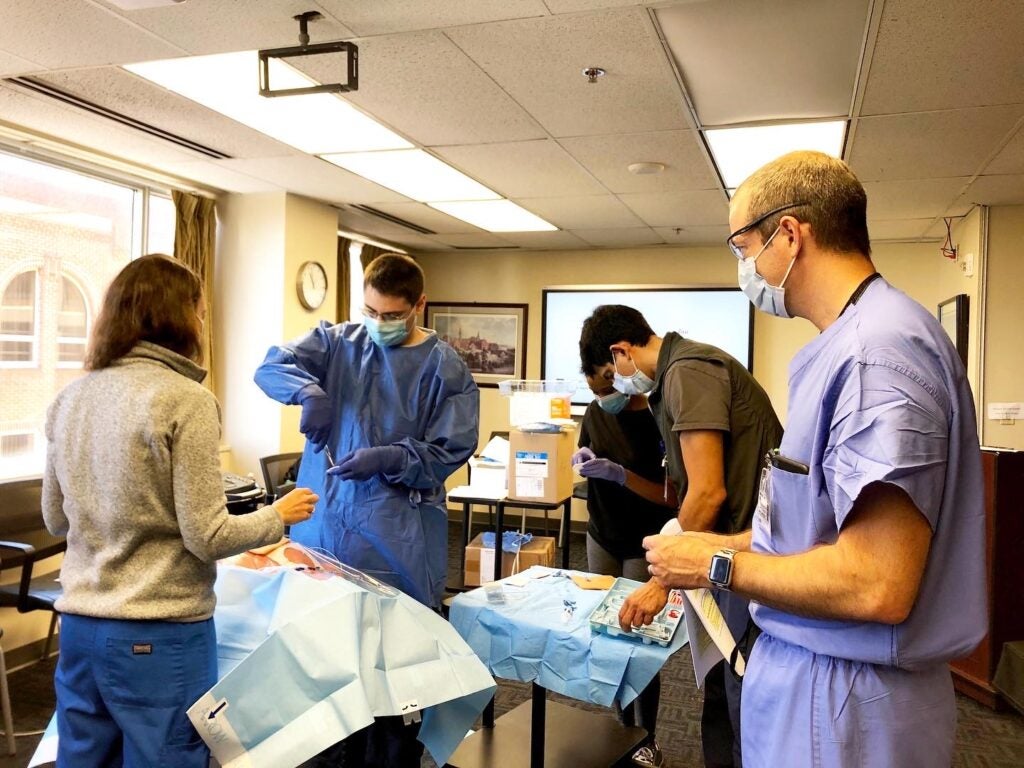 Resident Research Conference
Residents are required to participate in a scholarly project during their training. Many will present clinical vignettes, research projects, case series, or original scholarly work at regional or national meetings, including ACP-ASIM and Georgetown Research Day.
52 in 52
Second year residents are selected to create a high yield review of one landmark article in various medicine sub-specialties that is emailed to our residents as well as posted to the medical community via our Twitter account, @gtown_medres