Conferences and Meetings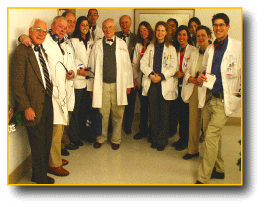 Residents and interns participate in a full range of academic conferences. Regularly scheduled events include the following:
Noon Conference
Three to four days weekly, teaching conferences are held for housestaff and students. The topics begin each year with an Emergency Lecture Series covering urgent and emergent management of a variety of medical disorders, and proceed through a core curriculum in Internal Medicine. Residents on elective participate in the delivery of lectures with faculty mentors.
Resident Research Conference
Residents are required to participate in a scholarly project during their training. Many will present clinical vignettes, research projects, case series, or original scholarly work at regional or national meetings, including ACP-ASIM and Georgetown Research Day.
Clinical-Pathologic Conference
Each month, a resident and faculty member are each presented as case for discussion as an "unknown." In problem-based fashion, the speaker guides the audience in the development of a differential diagnosis and presents a final clinical diagnosis prior to discussion of the autopsy or biopsy findings. The resident is assigned the unknown case as part of the Argy Teaching elective.
Journal Club
Twice monthly, residents on elective rotations present pertinent internal medicine research articles at journal club. Guidance is provided by the program director and another faculty expert in critical review of the pertinent medical literature.
Board Review
Residents in their second and third years of training participate in weekly review sessions in preparation for the Internal Medicine Board Examination. All residents are encouraged to take the In-Training Examination, sponsored annually by the Department, to identify areas of weakness to guide study and choice of electives. Study groups are facilitated by the residency program, beginning in the first year.
Residency Meetings
The Chairman, Vice Chair, and Program Director are engaged and available to the residents. Once monthly, the Chairman, Vice Chair, Program Director, Clerkship Director, and Chief Residents meet with the residents over lunch to facilitate communication and address general concerns.
Bioethics
The Georgetown Center for Clinical Bioethics offers an active consultation service as well as a core curriculum in medical ethics as presented in regular monthly conferences. Residents may apply for a combined residency-fellowship program toward a Masters of Philosophy in Bioethics.
Research Conferences
The department holds a monthly research conference at which residents describe ongoing research activities with their faculty research mentors. In addition, in the Spring, a departmental Research Day is held annually as a forum for faculty, post-doctoral fellows, clinical fellows, students and residents to present recent and ongoing research in the department. The day includes scientific podium and poster presentations that allow residents to keep abreast of the spectrum of research at Georgetown. Residents have also been quite active in participation in regional and national ACP-ASIM meetings, showcasing their clinical vignettes and / or clinical research.