In Loving Memory of Dr. Michael "Mike" Adams
1966-2016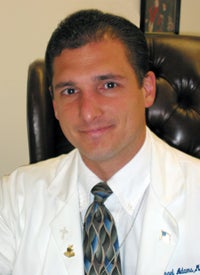 Dr. Michael "Mike" Adams was one of those people you meet once in a lifetime. He truly embodied humility, a servant's heart, and compassion for humanity.
Dr. Adams graduated cum laude from Bucknell University with a Bachelor of Science in Chemistry. He began studying at Georgetown University School of Medicine in 1988 and graduated cum laude in 1992. On the basis of his academic excellence he was selected for membership into Alpha Omega Alpha, a prestigious honor society for medicine. After medical school he did his residency training at Georgetown University in the Department of Medicine, headed by Dr. John Eisenberg. He was selected from amongst his peers to be a Chief Resident from 1995-96 and was given the Hugh H. Hussey award for excellence in medical education. After completing his residency Dr. Adams joined the faculty at Georgetown University and practiced in our Department of General Internal Medicine. He was recognized as a superb clinician and educator and was promoted to Associate Professor in 2004 and a Professor of Medicine in 2011.
Dr. Adams was recognized at all stages of his professional career for his extraordinary prowess at teaching trainees and colleagues. His many awards included the coveted Golden Apple award for excellence in student education which he won so many times that he was inducted into the Golden Orchard. From our residency he was awarded the Laurence Kyle award for excellence in house staff education, the Sol Katz society, the American College of Physicians Sol Katz award for excellence in medical education, the Hy Zimmerman award, and the Leonard Tow Humanism award, all recognizing Dr. Adams outstanding efforts at educating medical students and internal medicine residents. Dr. Adams was inducted into the MAGIS society at Georgetown University, the highest award given for teaching in the medical sciences.
Dr. Adams also held several important administrative positions within the University and the Department of Medicine. Early in his career he was the associate program director for educational development in the Department of Medicine. He was selected as the Internal Medicine Clerkship Director overseeing medical education in the Department of Medicine. Eventually he became the Program Director of the Internal Medicine Residency program at Georgetown University Hospital. His educational acumen was recognized when he was appointed Vice Chair for Education in the Department. Throughout his career in clinical work and in education, he touched countless lives.
Dr. Adams' achievements in education innovation were also noted on the national level. He was routinely recognized as one of the "Best Doctors" in Internal Medicine. At the National Board of Medical Examiners he served as the chair of several committees that created the standardized tests that all American doctors must take as they progress through their education. He received several grants that allowed him to study and offer insights into how medical schools should teach students about a wide array of topics, including smoking cessation and substance abuse by patients.
Dr. Adams belonged to several professional societies and often served as a leader of these national groups of physicians. He published widely in respected scientific and clinical journals and was a speaker at numerous national conferences on education.
Dr. Adams was loved and admired by all who had the good fortune of knowing him. He will be remembered as a truly remarkable person who touched the lives of so many. Dr. Adams was once quoted as saying, "PD for life – if you'll have me!". While he may not be with us in body, we know he is with us in spirit! Hoya Saxa, Dr. Adams!