Meet Megan E. Murphy, MD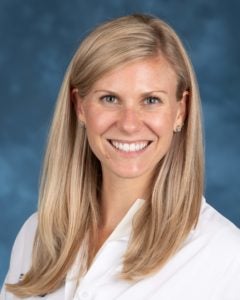 Megan E. Murphy, MD, was born and raised in Mechanicsburg, Pennsylvania. She graduated summa cum laude from Gettysburg College with a Bachelors of Science in health sciences. She then went to medical school at Georgetown University School of Medicine. She completed her residency at Thomas Jefferson University Hospitals in Philadelphia and graduated with a distinction in Medical Education. She was then selected to stay on as a chief resident. She returns to Georgetown to complete her fellowship in gastroenterology and hepatology.
Outside of medicine, her interests include running, yoga, gardening, and spending time with her fiancé and their dog Sandy.