Meet Obada M. Tabbaa, MD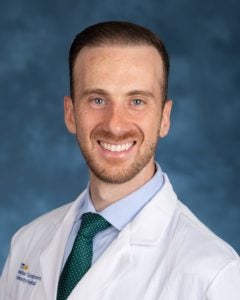 Obada M. Tabbaa, MD, was born and raised in Royal Oak, Michigan, until he relocated with his family to their native country, Syria. There, he obtained his medical degree from the University of Damascus.
Having plans to come back to the U.S, he further broadened his medical experience and rotated in several academic institutions, including the Mayo Clinic, Minnesota, and MD Anderson, Texas. When he moved to Florida with his family in 2015, he participated in volunteer work at the Crescent Community free clinic in the Tampa Bay area. In 2016, D.C. was his latest destination, where he joined the MedStar family for his internal medicine training, participating in several research activities and presenting at national conferences. He has always aspired to become a gastroenterologist, and started his fellowship in gastroenterology, hepatology, and nutrition in the summer of 2019.
Outside of medicine, Dr. Tabbaa likes spending time with his wife cooking and watching movies. He is a big fan of sports, and enjoys watching and playing basketball, and tennis.