Meet Yii Chun (Mary) Khiew, MD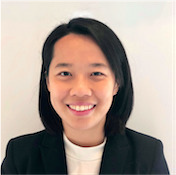 Yii Chun (Mary) Khiew, MD is originally from Sarawak, Malaysia and was raised in Taipei, Taiwan where she attended an international school. She graduated cum laude at the Boston University Sargent College of Health Sciences and Rehabilitation in 2010 while also working at the Boston Public Health Commission. She subsequently attended the National University of Ireland Galway in Ireland for medical school and graduated with first class honors in 2015, and underwent training as a house officer in the Irish healthcare system until 2017.
She returned to the United States to complete internal medicine residency at the Pennsylvania Hospital in Philadelphia, Pennsylvania where she solidified her interests in gastroenterology, hepatology, and global health.
Outside of medicine, Dr. Khiew enjoys traveling, trying out new restaurants and cafes, and staying active through hiking, running, and exploring new workout classes.