Faculty: Division of General Internal Medicine
Faculty of the Division of General Internal Medicine, Medicine Pediatrics, and Palliative Care offer comprehensive outpatient care—from routine services like annual physicals and immunizations to specialized services like pediatric developmental evaluations, preventive care, and treatment of chronic medical conditions.
To learn more about our faculty, follow the links below to access their Georgetown University faculty profiles. (If a particular faculty member doesn't have a link, their profile is currently under development and will be available shortly).
---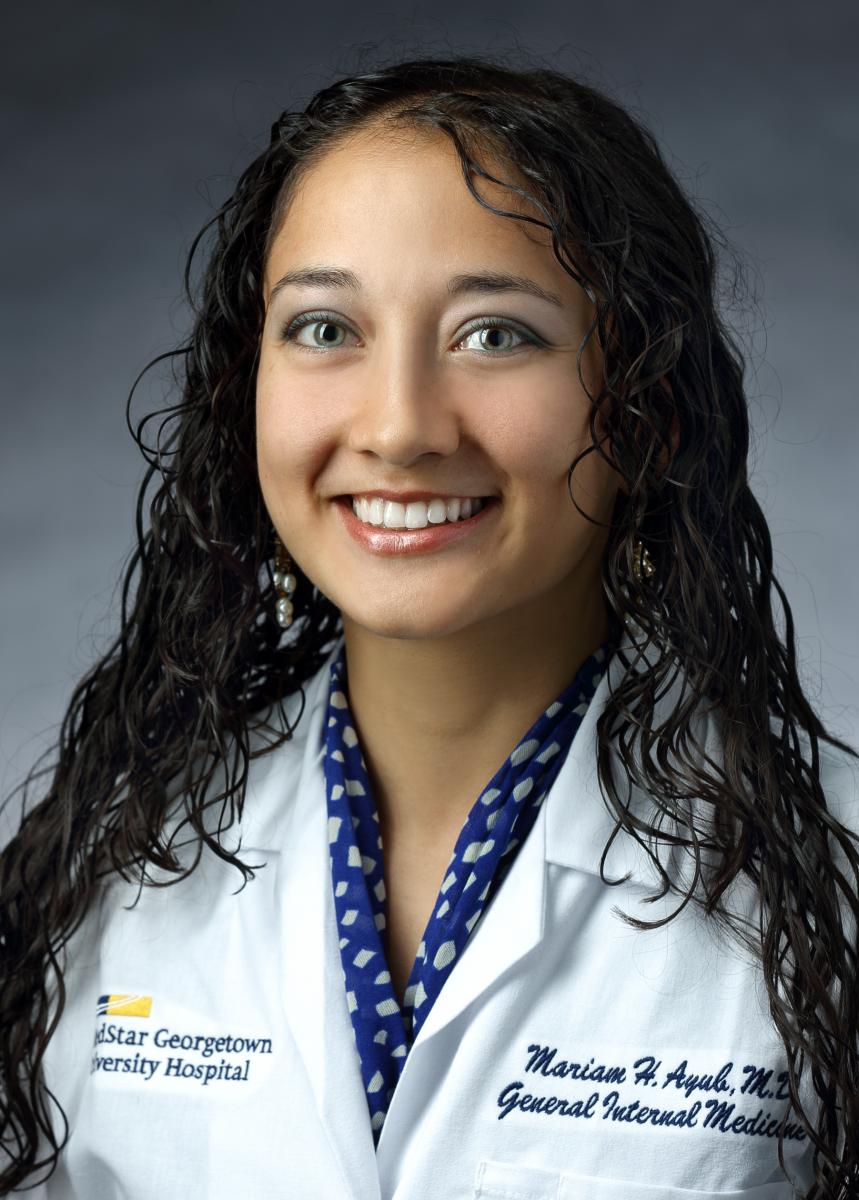 Mariam Ayub, MD
Chief, Division of General Internal Medicine
Associate Program Director for Ambulatory Education
Associate Professor
Specialties: Internal Medicine
Medical Degree: University of Maryland, 2010
Internship: Beth Israel Deaconess Medical Center, 2011
Residency: Beth Israel Deaconess Medical Center, 2013
Chief Residency: Beth Israel Deaconess Medical Center, 2014
Certification: Internal Medicine, 2014
Special Interests: Medical Resident Education, Quality Improvement, Transitions in Care
---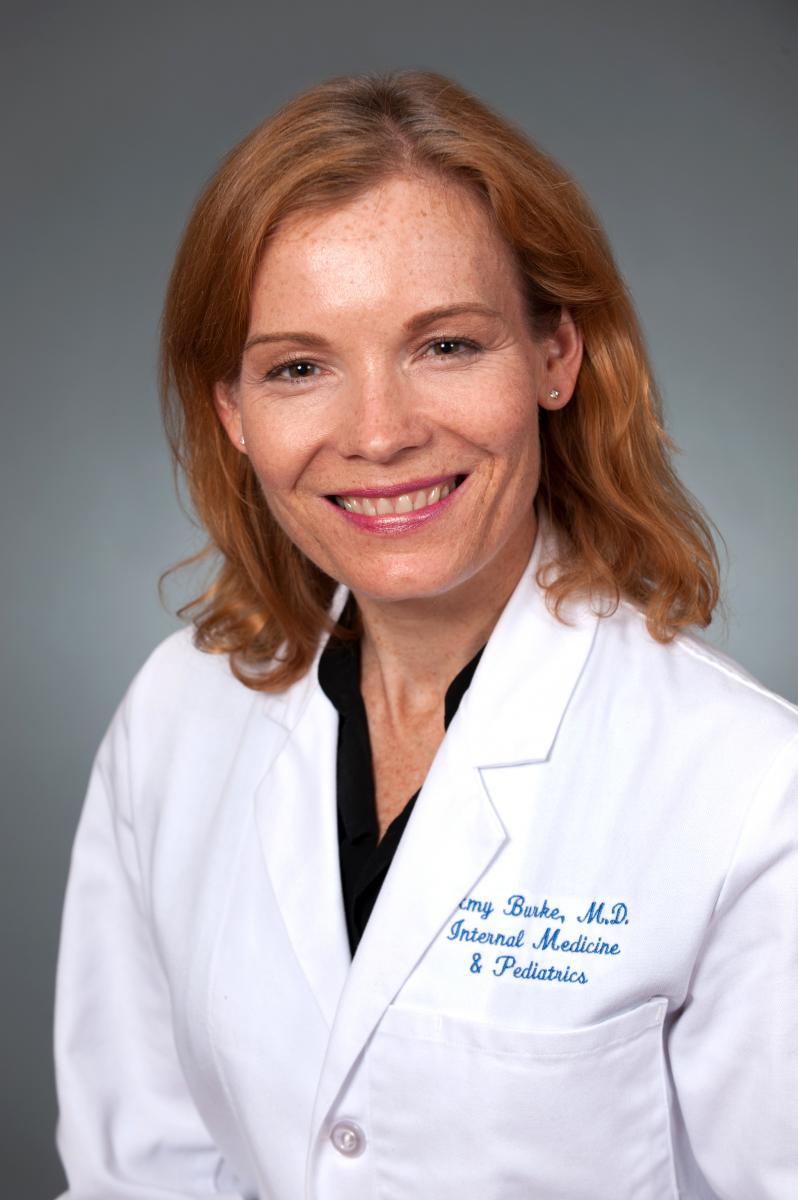 Amy Burke, MD
Associate Professor and Director, Combined Medicine-Pediatrics Residency Program
Division of General Internal Medicine and Department of Pediatrics
Specialties: Internal Medicine, Pediatrics
Medical Degree: Tulane University, 1997
Internship: Georgetown University Hospital, 1998
Residency: Georgetown University Hospital, 2001
Certifications: Internal Medicine, 2001; Pediatrics
Special Interests: Pediatrics
---

Elizabeth Ann Cilenti, MD
Assistant Professor

Specialties: Internal Medicine, Pediatrics
Medical Degree: Indiana University School of Medicine, 2008
Internship: Indiana University School of Medicine, 2009
Residency: Indiana University School of Medicine, 2012
Certifications: Internal Medicine, 2013; Pediatrics, 2012
Special Interests: Pediatrics
---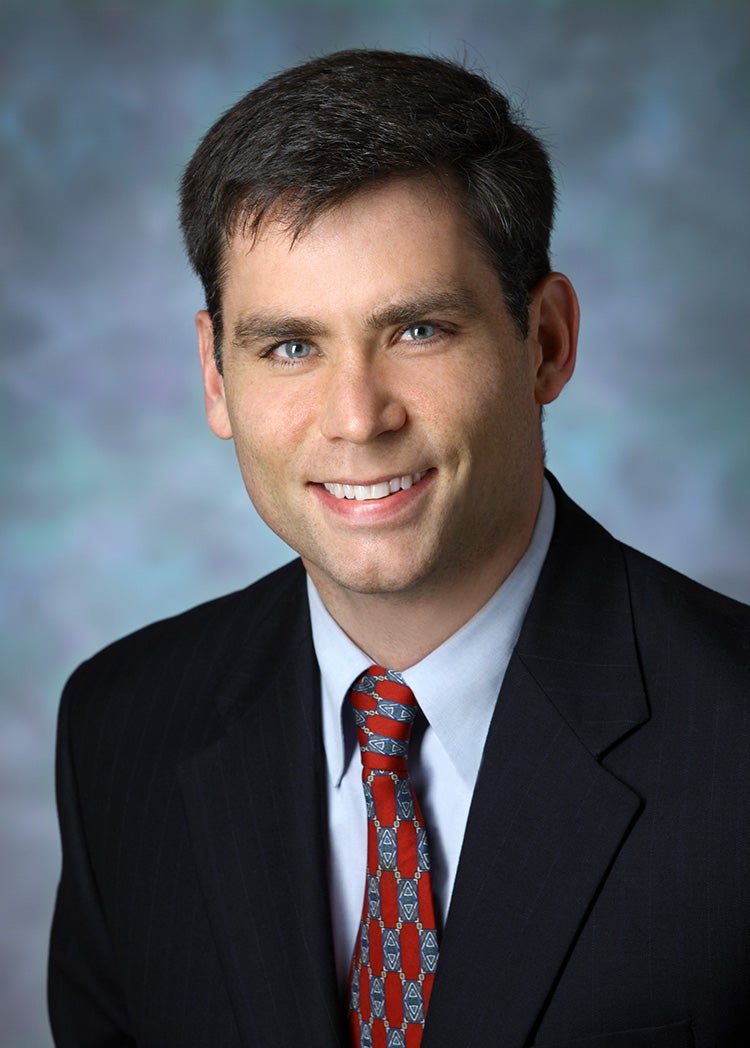 Associate Professor, Department of Medicine and Pediatrics
Chairman, Department of Pediatrics
Specialties: Internal Medicine, Pediatrics
Medical Degree: University of Medicine of New Jersey-1998
Internship: Mount Sinai Medical Center-New York. 1999
Residency: Mount Sinai Medical Center-New York. 2000
Certification: Internal Medicine, Pediatrics
Special Interests: General Internal Medicine and General Pediatrics

---

Erin Farrish, MD
Assistant Professor
Primary Specialty: Internal Medicine, Pediatrics
Medical School: Georgetown University, 2005
Internship: Georgetown University Hospital, 2010
Residency: Georgetown University Hospital, 2013
Certification: Internal Medicine, 2013; Pediatrics, 2013
Special Interests: Pediatrics, Preventive Care, General Internal Medicine
---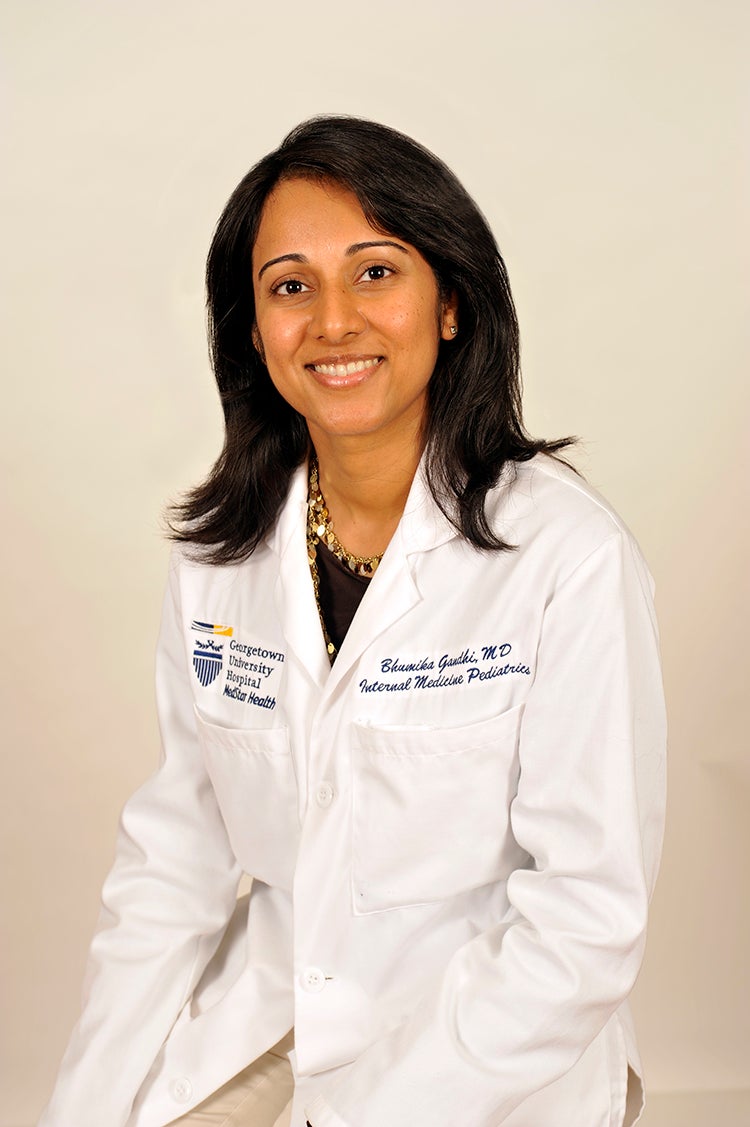 Bhumika Gandhi, MD
Associate Professor
Primary Specialty: Internal Medicine, Pediatrics
Medical School: George Washington University, 2005
Internship: Georgetown University Hospital, 2006
Residency: Georgetown University Hospital, 2009
Certification(s): Internal Medicine, 2009; Pediatrics 2009
Special Interests: Preventive Health and Primary Care, Pediatrics, Pediatric Cancer Survivor Care, Medical Education
---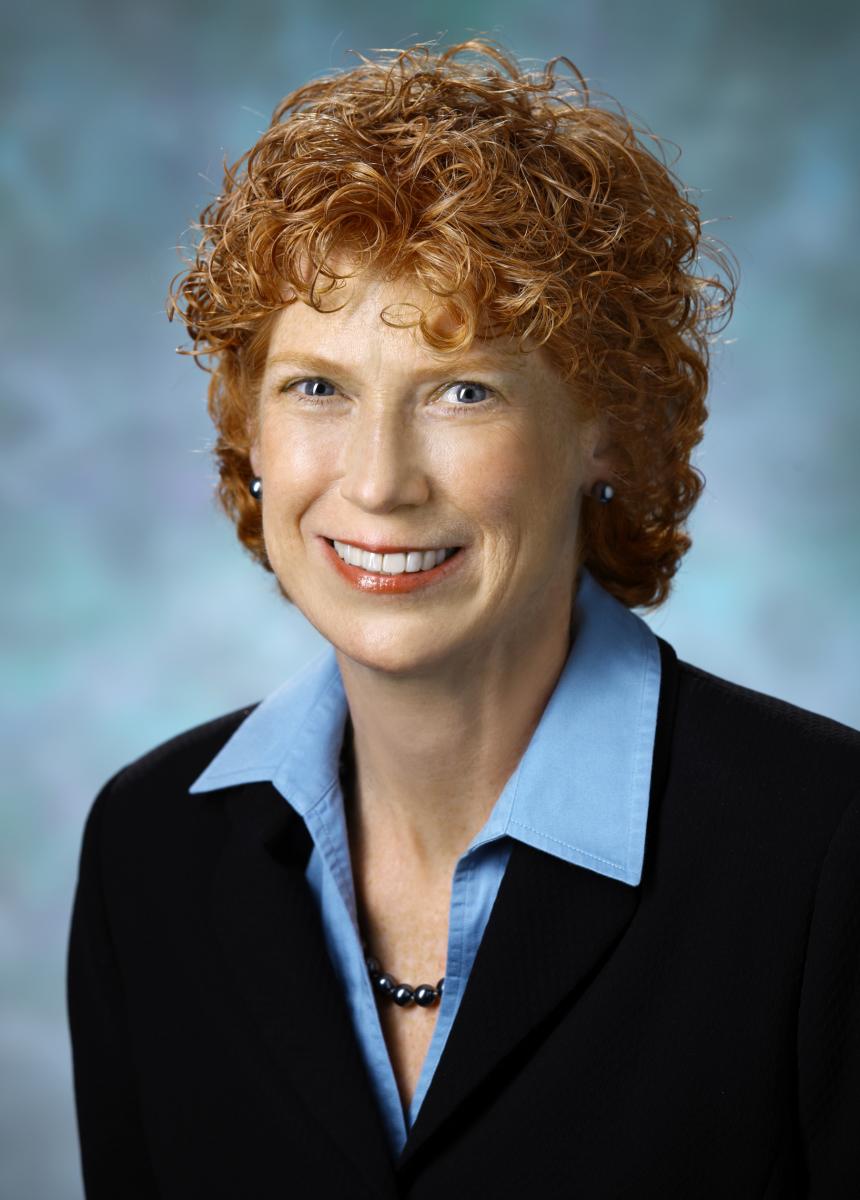 Eileen S. Moore, MD
Associate Professor and Assistant Dean for Community Education and Advocacy
Specialties: Internal Medicine
Medical Degree: University of Cincinnati College of Medicine, 1995
Residency: University of Cincinnati, 1998
Fellowship: Georgetown University Medical Center, 2001
Certification(s): Internal Medicine, 2010
---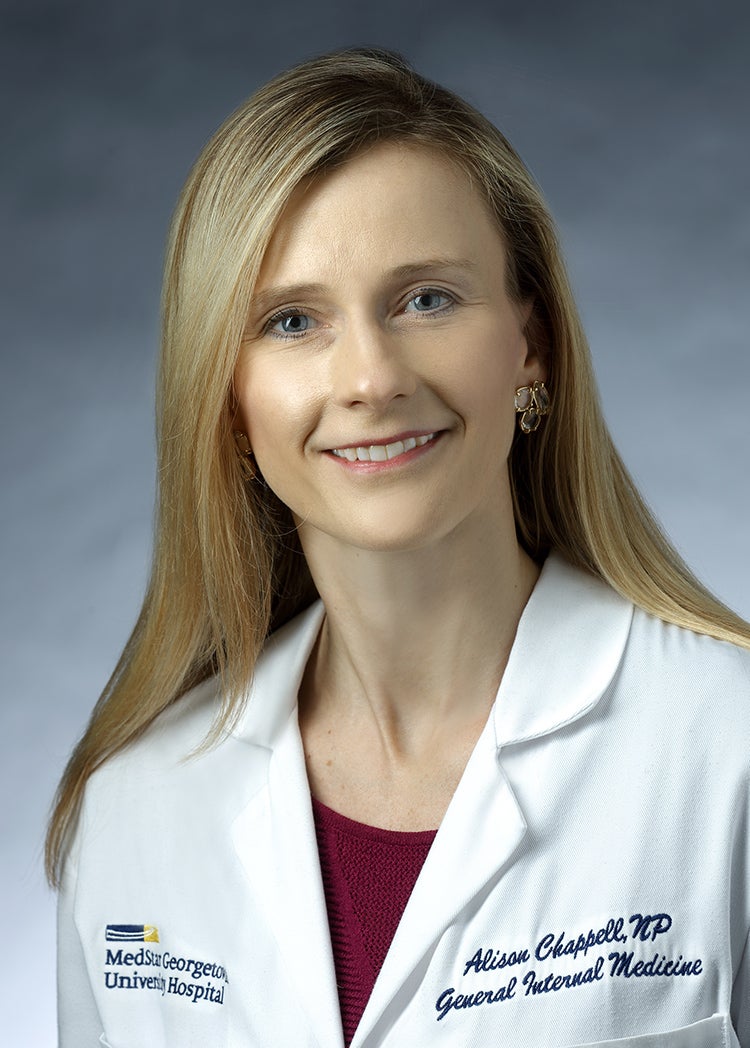 Family Nurse Practitioner
Adjunct Professor, Georgetown University School of Nursing & Health Studies Specialties:
Family Nurse Practitioner
Undergraduate Degree: University of North Carolina-Chapel Hill, BS, 2003
Nursing Degree: George Mason University, BSN, 2004
Masters Degree: Georgetown University, MSN 2008
Certification: ANCC
Special Interests: Preventive Healthcare, Diabetes, Wound Care, Women's Health
---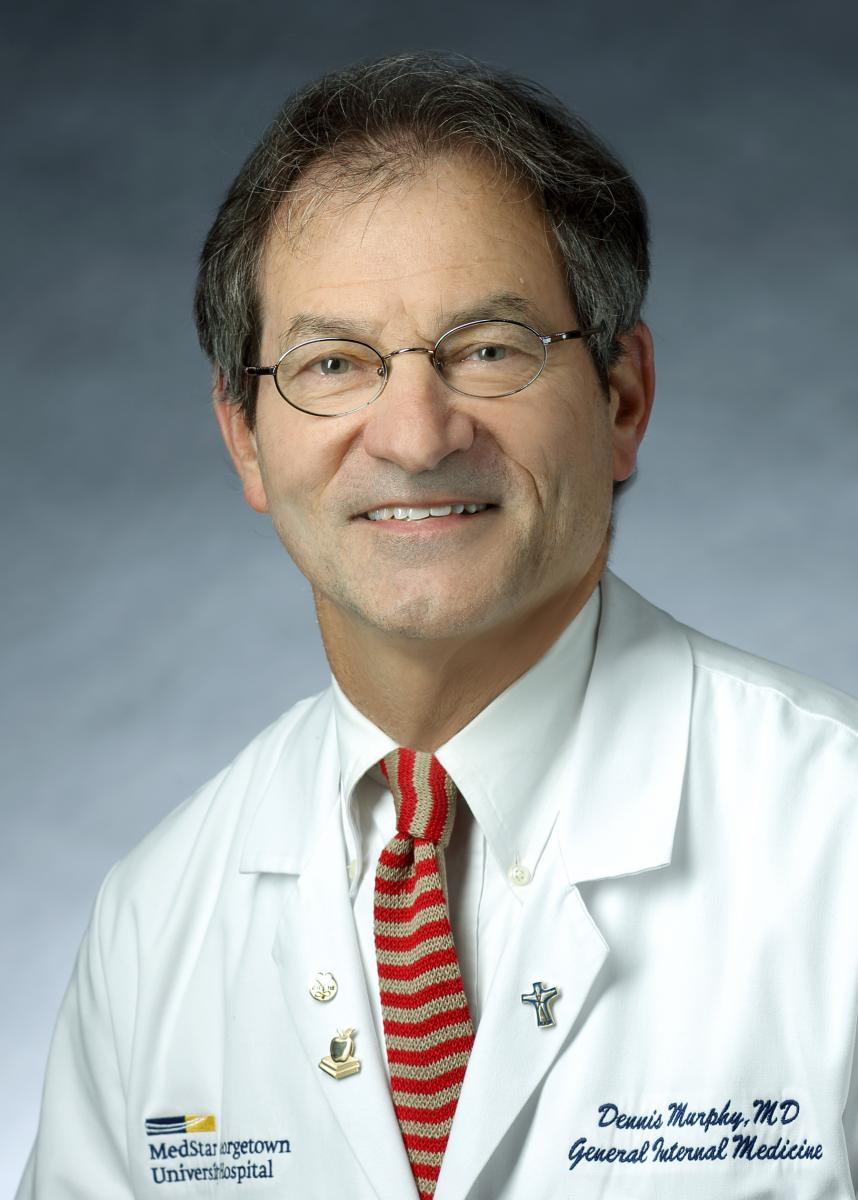 Dennis Murphy, MD
Assistant Professor
Specialties: Internal Medicine
Medical Degree: Georgetown University School of Medicine, 1983
Internship: Georgetown Medical Center, 1984
Residency: Georgetown Medical Center, 1986
Certification: Internal Medicine, 1986
Special Interests: Migraine, Mood Disorders, Preventive Medicine, Hypertension, Heart Disease, Sports Medicine, Medical Humanities/Literature and Medicine
---
Assistant Professor
Specialty: Internal Medicine
Medical Degree: Nova Southeastern University, 2013
Internship: MedStar Georgetown University Hospital, 2014
Residency: MedStar Georgetown University Hospital,2016
Certification: Internal Medicine, 2016
---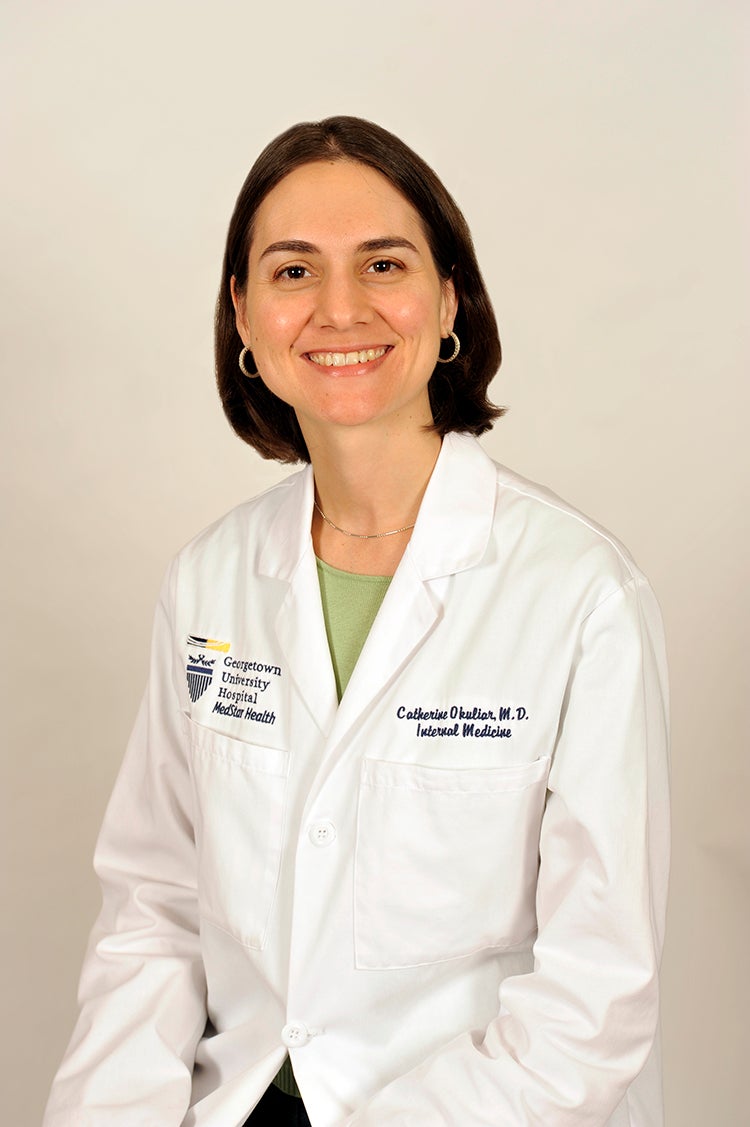 Catherine A. Okuliar, MD
Associate Professor and Clerkship Director
Specialty: Internal Medicine
Medical Degree: University of Texas @ Southwestern, 2002
Internship: University of California-San Francisco, 2003
Residency: Georgetown University,2005
Certification: Internal Medicine, 2005
Special Interests: Preventive Medicine and Medicine Education
Languages other than English: Spanish
---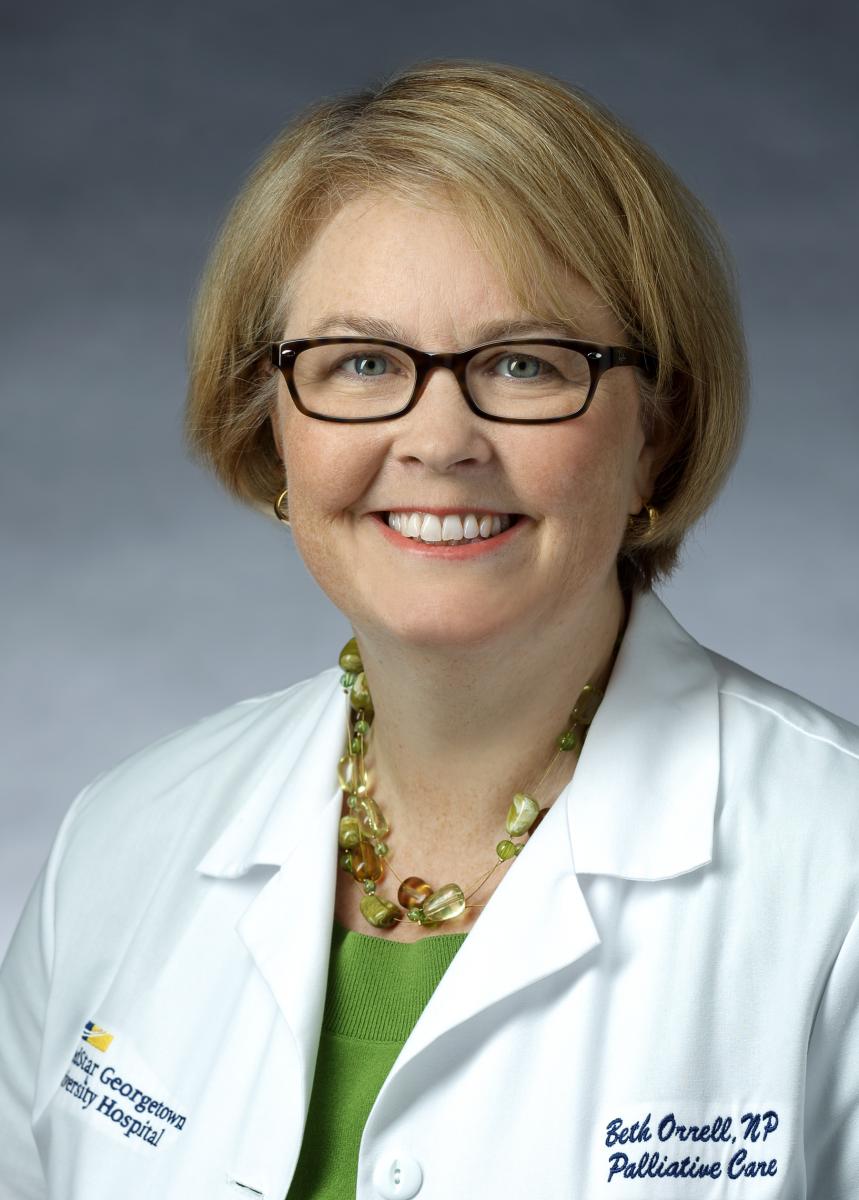 Beth Orrell, NP
Adult Nurse Practitioner
Undergraduate Degree: Eastern Mennonite University, BS, 1985
Masters Degree: University of Pennsylvania, MSN, 1994
Certification: Adult Nurse Practitioner, 1994, Advanced Certified Hospice and Palliative Nurse (ACHPN), 2016
Special Interest: Palliative Medicine
---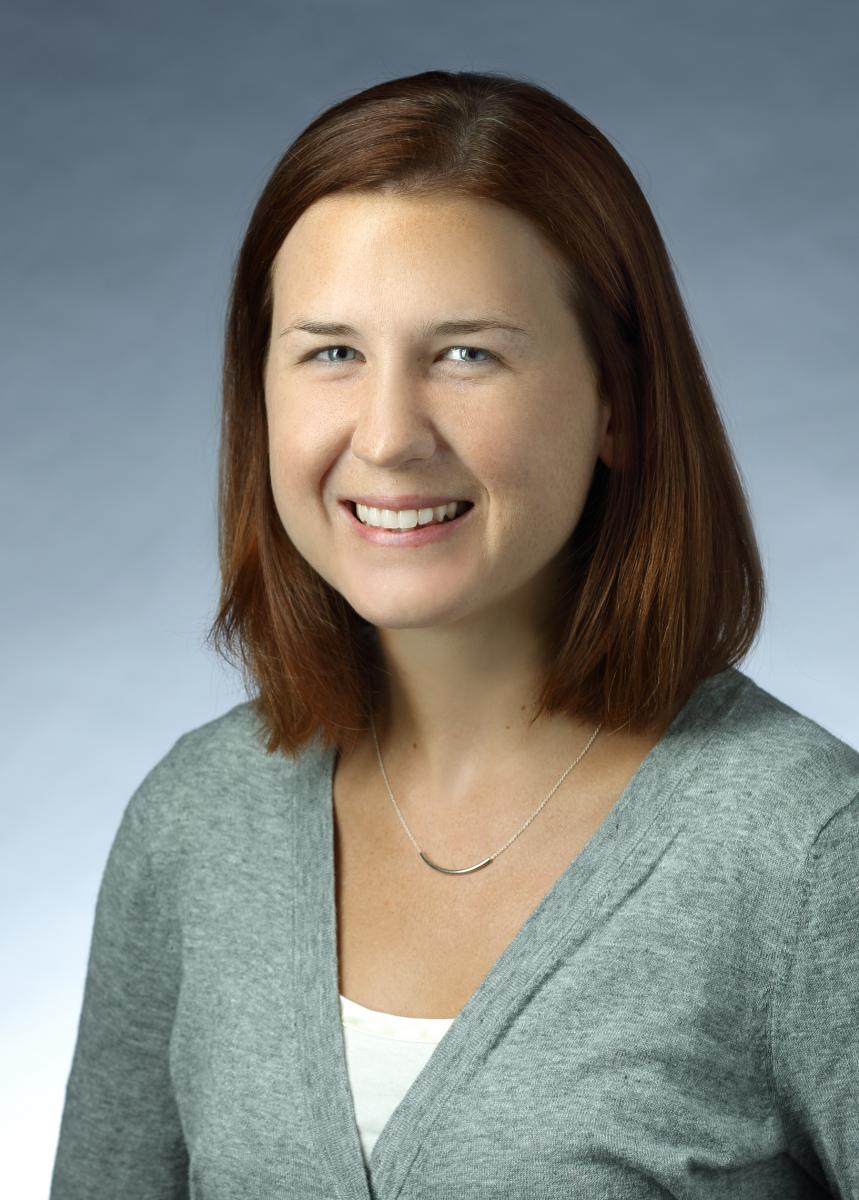 Kimberly Proos, NP
Family Nurse Practitioner
Undergraduate Degree: Emory University, BSN, 2009
Masters Degree: Georgetown University, MS, 2016
Certification: AANP
Special Interests: Preventive Healthcare, Diabetes

---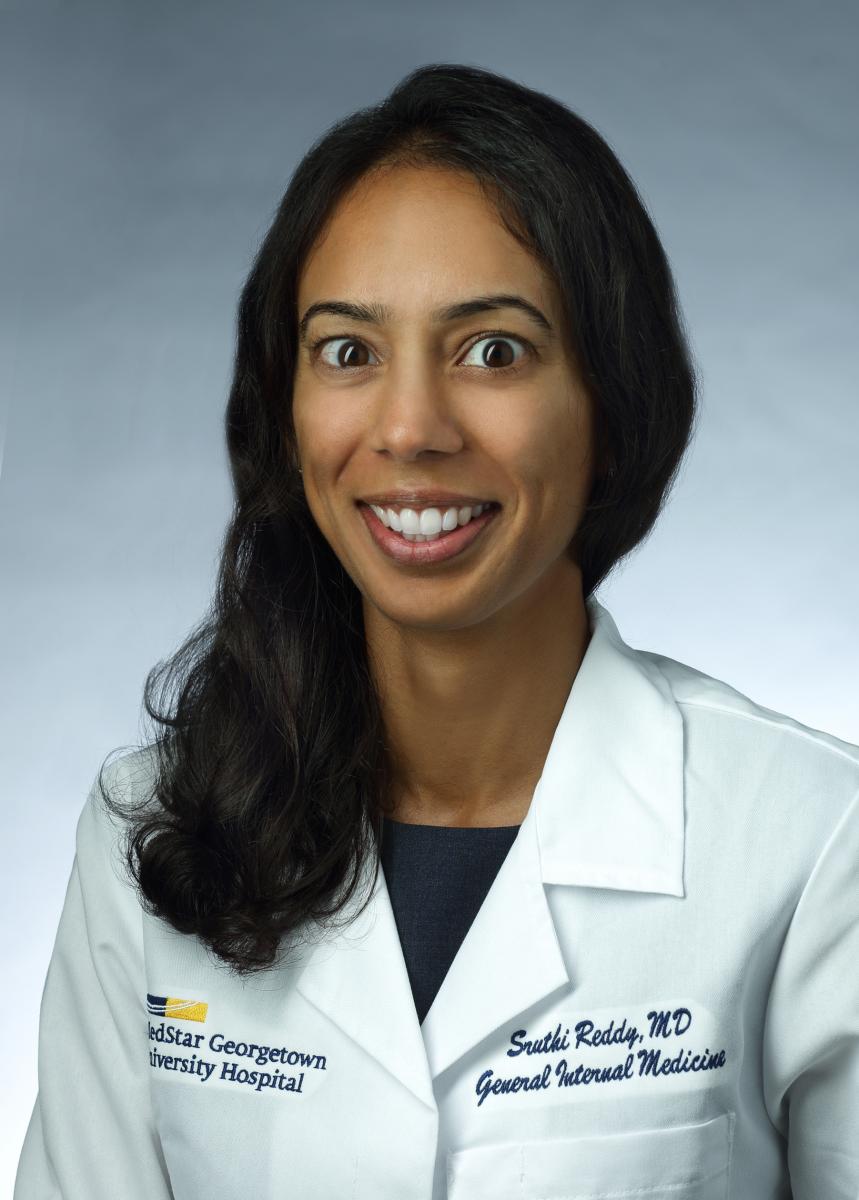 Sruthi Reddy, MD
Assistant Professor
Specialties: Internal Medicine
Medicine Degree: New York University School of Medicine, 2009
Residency: New York University School of Medicine, 2014
Certification: Internal Medicine, 2014
Special Interests: Preventive Medicine, Primary Care, Chronic Disease Management, Underinsured Patients
---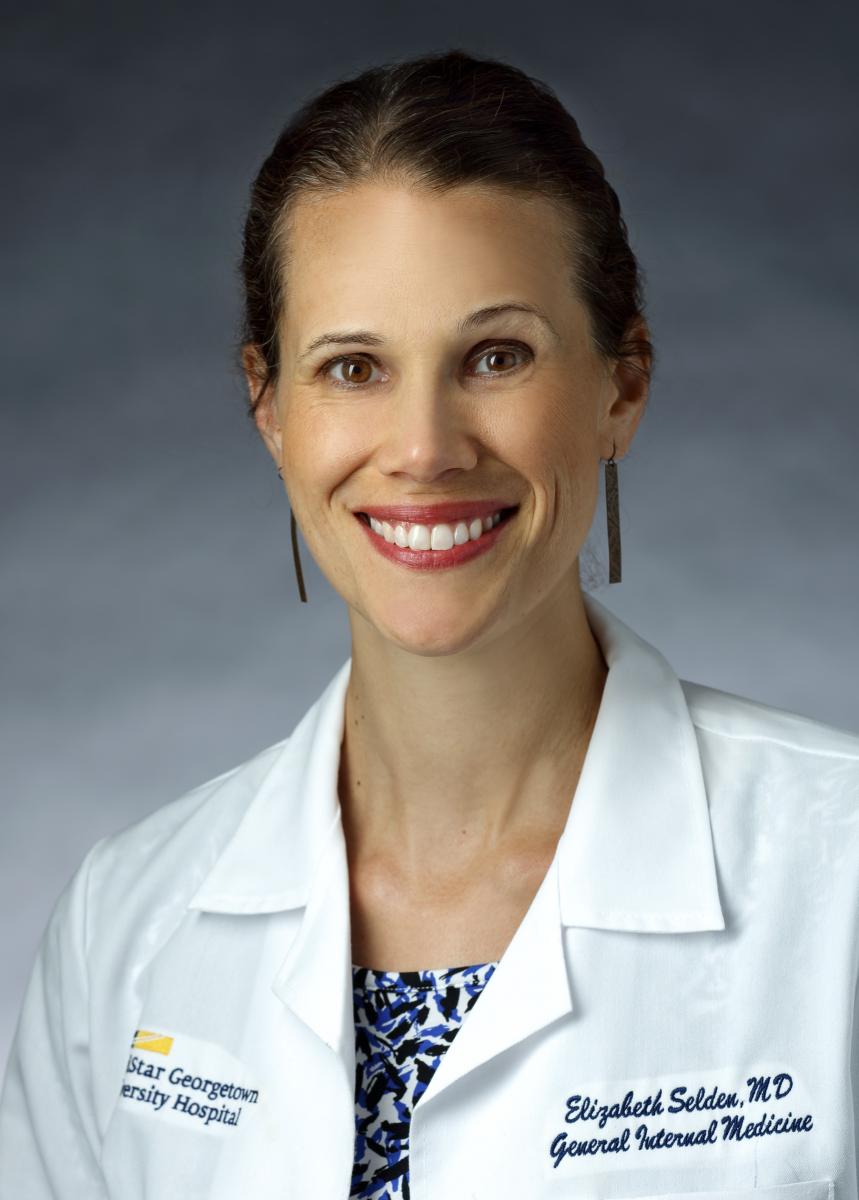 Elizabeth Selden, MD
Assistant Professor
Specialty: Internal Medicine
Medical Degree: Boston University, 2010
Internship: New York University, 2011
Residency: New York University, 2013
Special Interests: Women's Health, Human Rights, Medical Education
Languages other than English: Spanish
---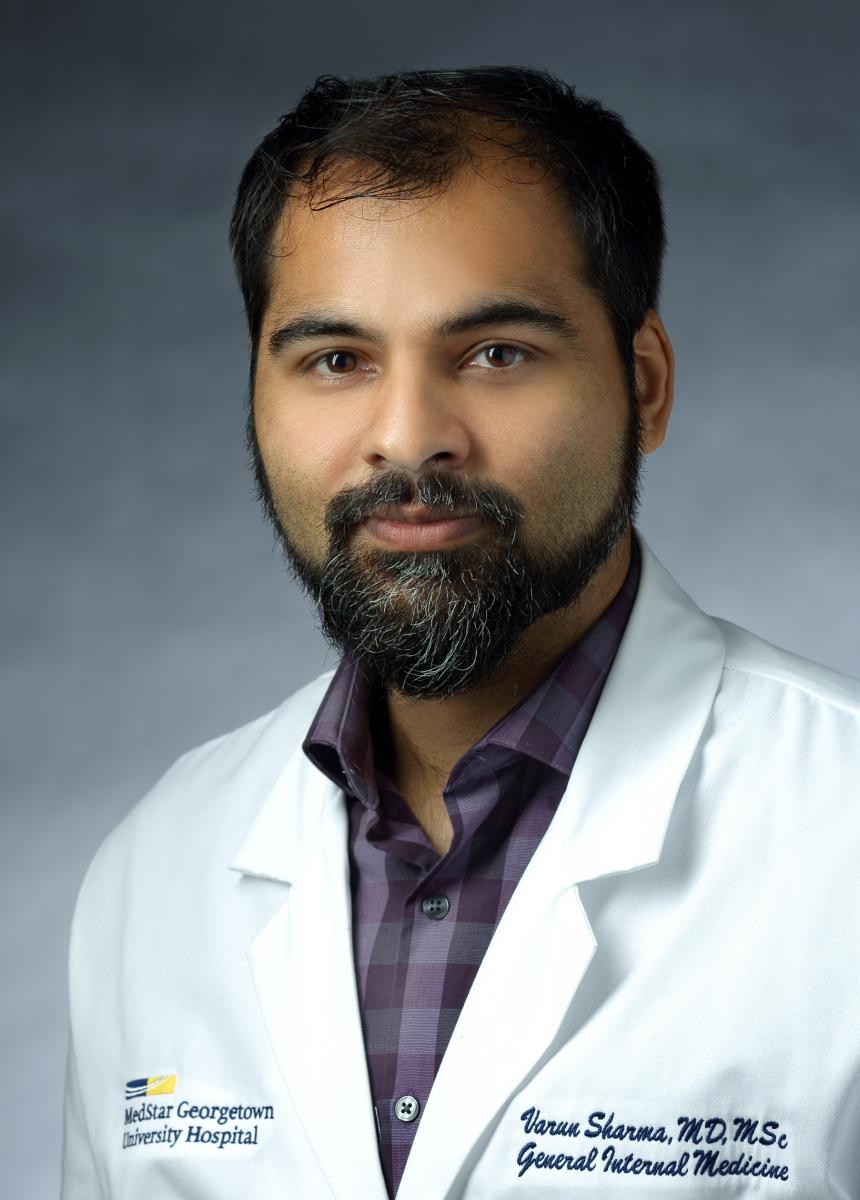 Varun Sharma, MD
Assistant Professor
Specialties: Internal Medicine, Integrative Primary Care, Holistic Medicine
Medicine Degree: New York University, 2008
Internship: Virginia Commonwealth University, 2009
Residency: Virginia Commonwealth University, 2011
Fellowship: Mayo Clinic, 2014
Certification: Internal Medicine, 2011
Special Interests: Preventive Medicine, Ayurvedic and Traditional Chinese Medicine, Nutrition
---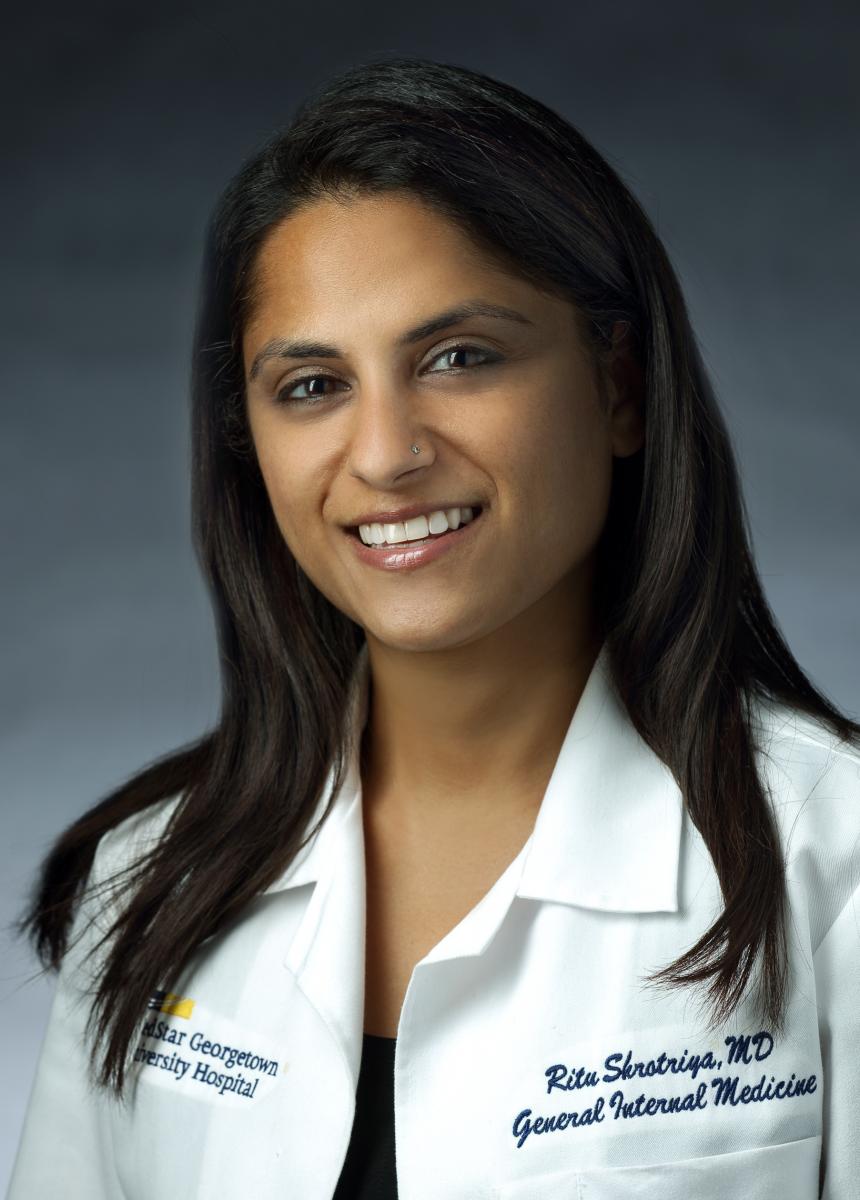 Ritu Shrotriya, MD
Assistant Professor
Specialties: Internal Medicine
Medicine Degree: SUNY Downstate, 2005
Internship: Temple University, 2006
Residency: Temple University, 2008
Certification: Internal Medicine, 2008
Languages other than English: Spanish
---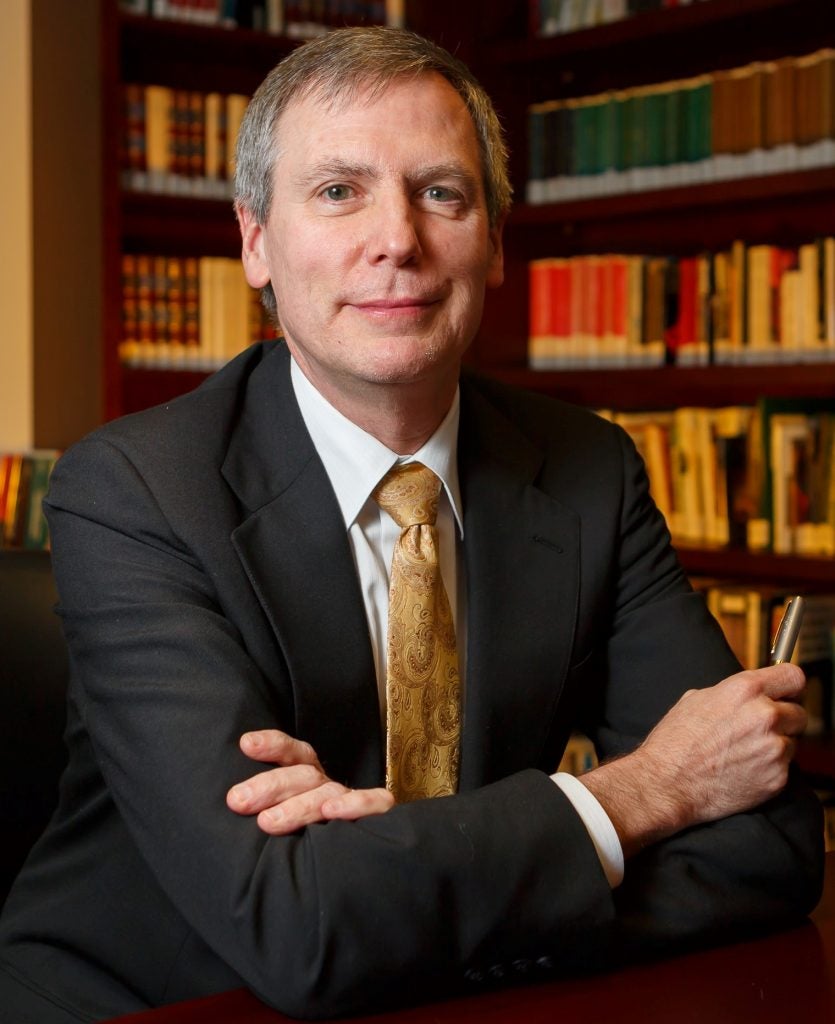 Daniel Sulmasy, MD, PhD
Professor of Medicine, Professor of Philosophy
Director, Kennedy Institute of Ethics
Specialties: Internal Medicine
Medicine Degree: Cornell University, 1982
Residency: Johns Hopkins Hospital, 1987
Fellowship: Johns Hopkins Hospital, 1991
Certification: Internal Medicine, 1987
Special Interests: Ethics of care at the end of life, Informed consent for research, Spirituality in medicine
Languages other than English: Spanish, German, Italian
---
Margot Wheeler, MD
Associate Professor
Specialties: Internal Medicine
Medical Degree: Dartmouth Medical School, 1991
Internship: National Naval Medical Center, Maryland, 1992
Residency: National Naval Medical Center, Maryland, 1994
Certification: Internal Medicine, 1994; Hospice and Palliative Medicine
Special Interests: Medical Consultation, Preoperative Evaluation
---

Allison Windels, MD
Assistant Professor
Specialties: Internal Medicine
Medical Degree: Georgetown University School of Medicine, 2014
Internship: MedStar Georgetown University Hospital 2015
Residency: MedStar Georgetown University Hospital, 2017
Certification: Internal Medicine, 2017
Special Interests: Preventive care, women's health care, geratric care & family support
---
---
Allergy and Immunology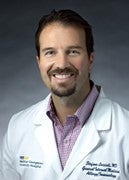 Stefano Luccioli, MD
Assistant Professor
Primary Specialty: Allery and Immunology
Medical School: Georgetown University, 1995
Internship: Georgetown University Hospital, 1996
Residency: Georgetown University Hospital, 1998
Fellowship: National Institute of Allergy and Infectious Diseases, 2001
Certification: Internal Medicine, 1998; Allergy and Immunology, 2001
Special Interests: Food Allergy, Anaphylaxis
---
Palliative Care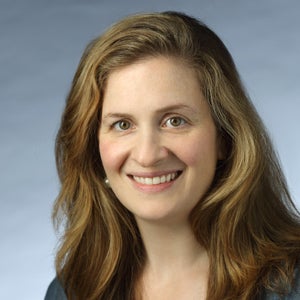 Rachel Adams, MD
Palliative Care Chief
Specialties: Internal Medicine, Palliative Care
Medical Degree: SUNY Downstate Medical Center College of Medicine
Internship: Boston Medical Center
Residency: Boston Medical Center
Fellowship: Mount Sinai School of Medicine
Certification: Internal Medicine; Hospice and Palliative Medicine

---
Tara M Coles, MD
Specialties: Emergency Medicine, Palliative Care
Medical Degree: The George Washington University
Residency: Boston Medical Center
Fellowship: Medstar Washington Hospital Center
Certification: Emergency Medicine
---
Yordanka Kirkova, MD
Assistant Professor
Specialties: Internal Medicine, Palliative Care
Medical Degree: Higher Medical Institute, 1990
Residency: Huron Hospital, 2011
Residency: Cleveland Clinic Hospital, 2013
Fellowship: University Hospitals Case Medical Center, 2014
Certification: Internal Medicine, 2013; Geriatric Medicine, 2014; Hospice and Palliative Medicine, 2016
Special Interests: Preventive Care, Palliative Medicine
---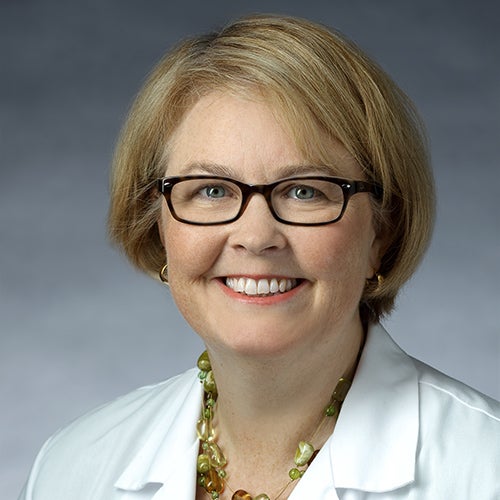 Beth Orrell, ANP-BC, ACHPN
Adult Nurse Practitioner
Undergraduate Degree: Eastern Mennonite University, BS, 1985
Masters Degree: University of Pennsylvania, MSN, 1994
Certification: Adult Nurse Practitioner, 1994, Advanced Certified Hospice and Palliative Nurse (ACHPN), 2016
Special Interest: Palliative Medicine
---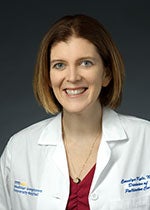 Carolyn Kyle, NP
Nurse Practitioner
Undergraduate Degree: Drexel University, BS
Masters Degree: University of Pennsylvania, MSN
Certification: Psychiatric-Mental Health, Adult Gerontology Acute Care
Special Interest: Palliative Medicine
---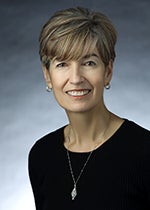 Cheryl Hughes, LICSW
Masters Degree: Catholic University, Masters of Social Work
Certification: Palliative and End-of-Life Care
Special Interest: Palliative Medicine, Oncology